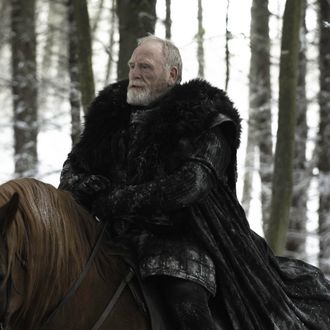 From now on, this could be Iceland.
Photo: Helen Sloan /HBO
It may already be spring, but on HBO tonight, the cold winds will be rising. Season two of Game of Thrones promises to be "brazenly serious, even ostentatiously artful, and unquestionably adult," as Vulture's own Matt Zoller Seitz put it, with new characters (e.g. fiery Melisandre!) and new landscapes to look forward to. But whereas most of season one was filmed in and around Belfast, Northern Ireland, and Mdina, Malta (which served as King's Landing), this time around, the production team ventured farther afield in search of a more realistic Red Keep and frigid North. Here's what they found:
Dubrovnik, Croatia: "To find a full-on, immaculately preserved medieval walled city that actually looks uncannily like King's Landing where the bulk of our show is set, that was in and of itself such an amazing find," co-executive producer D.B. Weiss told USA Today. Nearby Lokrum Island stood in for Qarth, the island slavery city that Daenerys visits in season two.
Unpronounceable, Iceland: Thankfully, we'll be seeing a lot more of the Wall and Castle Black, which was mostly filmed in a quarry outside Belfast for season one. But there's also the icy emptiness of Beyond the Wall, shot at the unbelievably spelled Svinafellsjokull glacier in Skaftafell and near Smyrlabjorg and Vik on Hofdabrekkuheid.
Ballintoy Harbour, Northern Ireland: Apart from the Belfast sound stage where much of the series has been filmed so far, this nearby harbor was used to shoot several new Iron Islands scenes that we can expect this season.
There's already a Game of Thrones board game — avoid being the ironmen, if you can — so why not a themed world-travel package?