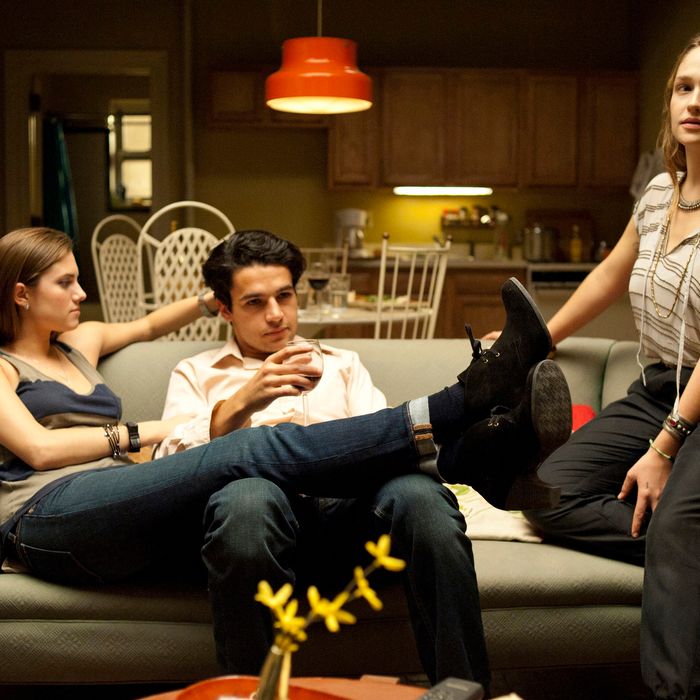 Well, that sure got heated fast! When last we checked in on the vigorous debate surrounding Girls, Lena Dunham's lightning-rod HBO show, the first episode had been released to the world for a mere twelve hours, and the argument over the show's racial politics had just begun. One week and a single 30-minute episode later, that conversation is still going strong, fueled mostly by a supremely ill-advised tweet from staff writer Lesley Arfin. Let's break the fighting down:
April 16: "Where (My) Girls At," Jenna Wortham's piece on the Hairpin, raises questions about the lack of diversity on the show. The Twitter conversation turns to the "plausibility" of the portrayal (put more plainly: Would any of those characters know anyone of color in the real world?); some buy it, some do not.
April 17, 2 a.m. (EST, we assume): Girls writer Lesley Arfin posts the following tweet: "What really bothered me most about Precious was that there was no representation of ME." (A screenshot of the since-deleted tweet is available here.)
April 18, day: The Atlantic's Elspeth Reeve writes an early piece condemning Arfin: "Even when succumbing to the temptation of a one-liner, most of us manage to avoid sounding like racists. Not Girls writer Lesley Arfin."
April 18, evening: Arfin deletes the offending tweet and offers an apology: "Without thinking, I put gender politics above race and class. That was careless. The last thing I want is girls vs girls." She then deletes the apology.
April 19: Jezebel, Think Progress, and Racialicious, among others, chime in on the Arfin controversy. Writes Dodai Stewart: "Does Girls have the right to be all-white? Of course. But we, the public, have the right to critique the insular, homogenous world a young woman with the good fortune to have her own TV show has chosen to present. Because it's exclusionary, disappointing, unrealistic, and upsetting."
April 19: Gloria Steinem tells Vulture she has no idea what Girls is. (Gender politics break!)
April 20: Vice writer Kelly McClure comes to former Vice columnist Lesley Arfin's defense. Meanwhile, Max Read doubles-down on the Precious tweet and what he dubs "ironic racism"; he also digs up an old Arfin interview in which she proclaims her love of the N-word.
April 20: Ta-Nehisi Coates questions HBO's responsibility: "It is not so wrong to craft an exclusively white world — certainly a significant portion of America lives in one. What is wrong is for power-brokers to pretend that no other worlds exists. Across the country there are black writers and black directors toiling to bring those worlds to the screen. If HBO does not see fit to have a relationship with those writers, then those of us concerned should assess our relationship with HBO."
April 22: Episode two of Girls airs.
April 23: Anna Holmes, writing at the New Yorker, addresses the show's "caricatures:" "In the pilot, we meet Joy Lin, a bespectacled, goody-goody Asian-American girl who is chosen over Hannah for a job at the publishing house where they are both intern because she has better computer-design skills. There's also a black "homeless guy" who entreats Hannah to smile as she makes her way from her parents' midtown hotel back to her Brooklyn apartment. These characters are written as either amusements or impediments who stand in the way of…what? An uninterrupted walk down the sidewalk? A job?"
April 23: EW's Hillary Busis applauds the show for "tackl[ing] abortion from the get-go" but notes that the "convenient miscarriage … does feel like a cop-out." John Cook's predictably scathing Gawker recap recasts each character as "a prominent segregationist politician and/or signer of the Southern Manifesto." His take on the pregnancy plot: "Deux ex miscarriage! Abortion solved."
April 23: The New York Times uses Girls as a peg for an article about how female monkeys groom themselves. There are eight episodes left in the first season.