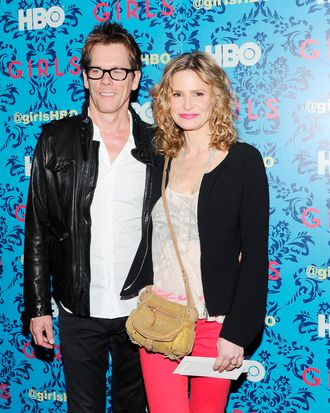 Kevin Bacon and Kyra Sedgwick.
Photo: Nicholas Hunt/?Patrick McMullan
Girls, Lena Dunham's comedy about a group of New York twentysomethings, celebrated its premiere last night at the Top of the Standard. (The show arrives April 15 on HBO.) With all the talk of how excruciatingly awkward life can be for young women (Dunham's character suffers through some very bad sex, for example), we found ourselves gravitating towards one of the more grown-up people in the room, Kyra Sedgwick. Thankfully, Sedgwick had all the sage advice a girl could ask for. Ladies, listen up.
What did you relate to about the show?
I related to a lot of it. There are certain things I relate to that I don't want to talk about.
Are we talking about awkward sex in your twenties?
Yeah, really bad. You know what really strikes me? This strikes me all the time and it struck me growing up, and that is that girls in their twenties are so much more mature than boys in their twenties, for the most part. And so there's this quiet desperation and loneliness and isolation about being a girl in your twenties, because you're seeking out boys your same age and they are literally a full decade younger than you. Seriously.
I'm in my thirties and I think it's still the same when they're thirty.
I was in my twenties and a man in his forties told me that men don't become men until they're forty. And, I mean, I married someone seven years older than me [Kevin Bacon], but the difference between 23 and 30 was huge. It's just different. So that really struck me, that loneliness and that isolation and that kind of feeling of "Why am I so out of context?" And I think that's because women are older in their twenties.
What's your advice for women in their twenties and early thirties?
I don't know. Wait for the right one and don't give your power away. Because that's the other thing: Women are so powerful and men don't want them to be. Men want to take away your power because they're scared of you. But don't give it away easily. And by power, I don't mean necessarily sex. I mean your essence. I'm getting very philosophical and esoteric.
What were you like in your twenties?
Look at me. I was 23 and I got married. I was very serious and uninterested in short-term relationships. I was an anomaly. I was very young and serious. And I had three very serious relationships before I met Kevin. I'm not a good test case.
Were you uncomfortable watching the sex scenes in the show?
I thought they were bold and awesome and very real. And not pretty, which it often isn't.
Lena doesn't have hangups about being naked on camera, but people are talking about it.
You mean that it's real and not airbrushed [mocking gasp]? I think we're so used to seeing airbrushed that we don't know what real looks like anymore.
Do you get uncomfortable getting naked onscreen?
No. I'd rather be real than airbrushed. I think that's pretty awesome. And the last time I was naked onscreen, that was in The Woodsman, it was pretty real.