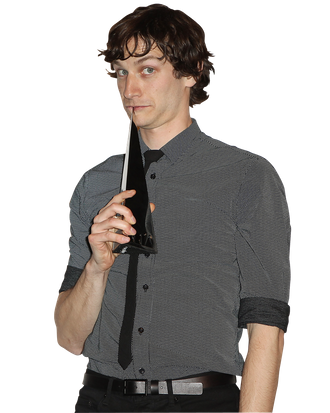 Gotye.
Photo: Mark Metcalfe/Getty Images
Growing up in Australia, Gotye, the voice behind the Glee-approved single "Somebody That I Used to Know" featuring Kimbra, knew of Saturday Night Live mostly through movies starring the show's megastar alums Will Ferrell and Adam Sandler. Now the 31-year-old multiinstrumentalist is this weekend's musical guest (and the latest in a string of arguably hipper SNL acts). We spoke with him about feeling the pressure to perform, collaborating with Kimbra, and his fan Britney Spears.
Being from Australia, what do you make of Saturday Night Live? Did you even watch it?
I might be in the minority, but I think in Australia, I didn't naturally perceive the scale of the institution and how important the show is. It's just never been broadcast on Australian television regularly. I've seen a lot of sketches from the show over the years and the comedians — especially the classic early eighties guys who went on to do so many big films. And I've seen the Lonely Island guys and Adam Sandler and the stuff that Will Ferrell has done. Was Jim Carrey on SNL?
No. He was on In Living Color. But he's made some classic guest appearances on SNL.
Well, I'm a little bit green. But everybody's been telling me about it so they're making me nervous.
Are you at all surprised by the success of "Somebody That I Used to Know"?
I guess I had this inkling that it would connect with people. But I have to say I was surprised to get the No. 1 in the U.K. To me this really shows that I should just stick to my guns and make music not to fit any kind of format or sound, but to make it for myself. Try to make it as true to a certain feeling.
You and Kimbra wind up practically naked in the video.
When I saw the final edit of the video, probably just because I was self-conscious about stepping out in front of the camera and doing something so direct for the first time, I was just like, "Phew. Okay. I don't look like an idiot." I thought it had a power to it. But I didn't look at it and go, "Wow, people are just gonna be floored by this. This is gonna be a viral hit." [Editor's note: It's gotten more than 156 million views.] If anything, I probably would have looked at it and gone, "Oh, well, this might connect with some people, but it will be an artsy thing."
How did you meet Kimbra?
She contacted me years ago. She was covering one of my songs at a small club in Melbourne. The same week a couple of friends had sent me YouTube links to her covering a song and I thought she sounded really amazing, so I went to check out her gig. Maybe she was 17. She had just moved to Melbourne. We shared a drink. And then we didn't really keep in touch. Then five years later, [writer-producer] Francois Tetaz, who was working on Kimbra's record and was mixing my album, suggested that I consider her for the song. I took his suggestion, gave her a buzz, and sent her the song. She basically instantly said, "I love it. Let's get together." And the second she started demoing takes of the vocal I could tell that she was gonna be amazing.
How did the xylophone play on "Baa Baa Black Sheep" come about?
I [almost] stopped myself because I thought, Is this too cute? But in the end, it had a rhythm and form. Maybe the reason it cuts to the core of people is because of something in childhood. The song is very much about reflection: The whole first lyric is about thinking about old relationships and how I suppose memory can be quite unreliable.
Have there been any "Are you serious?" moments since your song blew up?
Well, my drummer, Marco, was at the Playboy mansion to see Bruno Mars play and he said he saw Britney Spears dancing with friends to a remix of  "Somebody I Used to Know." That's kind of a surreal image. But cool.