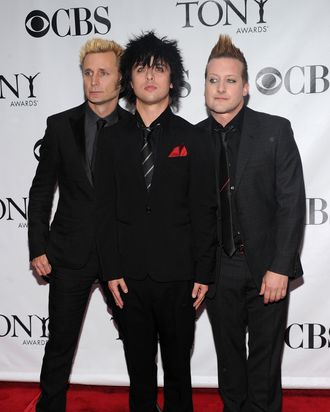 (L-R) Musicians Mike Dirnt, Billy Joe Armstrong and Tre Cool of Green Day attend the 64th Annual Tony Awards at Radio City Music Hall on June 13, 2010 in New York City.
Photo: Bryan Bedder/Getty Images
Are you jonesing for a new Green Day album? You're about to get your wish, thrice over. Front man Billie Joe Armstrong announced this week that the band will release three albums in the next year: ¡UNO! in September, ¡DOS! in December, and ¡TRE! in January. (Surely, they were one ¡CATORCE! away from somehow summoning Bono from their bathroom mirror, Candyman-style.) The triple-album trilogy will be the follow-up to Green Day's 2009 record 21st Century Breakdown, though if its ambition and sprawl recalls their enduring 2004 megahit American Idiot, we're sure that they'd welcome the comparison.