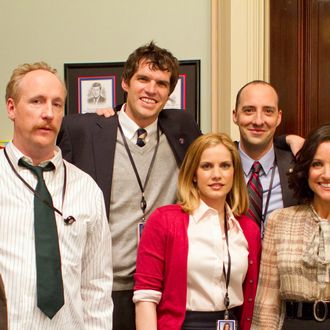 Veep
Photo: GRAY PICTURES/HBO
It's a super Tuesday at HBO, or at least a very good one: The network's new Julia Louis-Dreyfus comedy Veep got off to a solid start in the ratings. Per Nielsen, the premiere episode of the political comedy averaged 1.4 million viewers at 10 p.m. Sunday, a healthy increase of 34 percent over the 2012 average for the successful third-year comedy Eastbound & Down. Add in a midnight encore, and Veep attracted 1.7 million viewers for its first episode (not counting VOD and encore showings, which have yet to be tallied). Although 1.7 million viewers might not sound like a lot, for HBO, this really is a pretty good debut and certainly better than a warm bucket of spit.


While Veep no doubt benefited from having a Game of Thrones lead-in (3.7 million viewers this week), it's already off to a far stronger start than ex-Sunday comedy Bored to Death, which struggled to ever rise above 1.1 million viewers (despite having Curb Your Enthusiasm and Eastbound as comedy lead-ins). And Veep is also doing better than the final season of now-dead HBO comedy Hung (though that show's first two seasons, boosted by megahit True Blood, drew a far bigger audience). Throw in generally great reviews and Emmy magnet Dreyfus, and you can expect HBO won't be "Biden" its time before announcing a second season of Veep (sorry!).

We also continue to believe a renewal is pretty certain for Girls, which after last week's modest debut turned in … another modest performance. Episode two of Lena Dunham's low-key series debut averaged 858,000 viewers at 10:30 p.m., which is pretty much equal to last week's pilot tune-in (872,000). HBO notes that when you add up early data from VOD and streaming and encore airings, the pilot of Girls has already been seen by 3.2 million viewers. This number does not count those viewers who are certain they've seen Girls but haven't, and just think they have based on the numerous media mentions of the show.