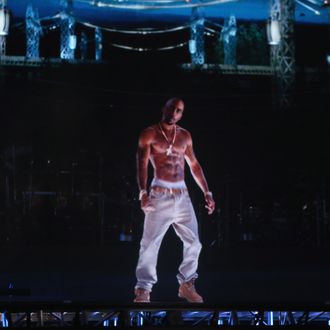 A hologram of deceased rapper Tupac Shakur performs onstage during day 3 of the 2012 Coachella Valley Music & Arts Festival at the Empire Polo Field on April 15, 2012 in Indio, California.
Photo: Christopher Polk/Getty Images
In case you didn't believe the hologram hype would last, here are the hard numbers: Following Ghost 2Pac's Coachella performance, Tupac Shakur's Greatest Hits album popped back up in the Billboard 200 (at No. 129) for the first time since 2000; meanwhile, the two songs performed by the hologram saw a 1,530 percent ("Hail Mary") and 881 percent ("2 of Amerikaz Most Wanted") sales increase, respectively. So, yes, holograms are an effective novelty marketing strategy! And the Ghost Tours are looking more and more likely.