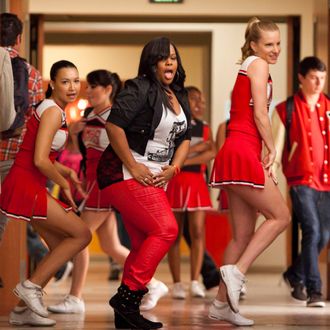 Apparently disco does suck: Despite what we thought was a pretty solid and breezily fun hour, Tuesday's Saturday Night Fever episode of Glee ended up being the show's lowest-rated ever among viewers under 50. Per Nielsen, the hour averaged 2.4 rating in the adverstiser-coveted demo group of adults 18-49, which is 11 percent below last week's tally (and which had previously been the least-watched ever). Total tune-in was 6.2 million viewers, just a hair above the show's season low (perhaps baby boomers nostalgic for the seventies provided a lift). Still, the ratings trend for Glee has not been good this season: It began the year with a 4.0 demo rating, and last night's number means the show has lost 40 percent of its young audience since the season started. 
As not-good as these ratings are, it's worth putting them in context. First, it is turning out to be an absolutely awful spring for a number of established shows. CBS's mighty NCIS, for example, fell to a season low in adults 18-49 last night, while ABC's Private Practice — in its first Tuesday night appearance — also sank to a series low (ditto the network's Last Man Standing and Cougar Town). And remember the supposedly mighty The Voice? It's more like a strong whisper these days: While it was still the No. 1 show on TV, and miles ahead of anything else on the Peacock's prime-time schedule, last night's 3.3 demo rating was a season low and the show's second lowest-rated episode ever. This spring slump sort of happens every year in TV, though the impact seems to be a bit more pronounced this year (perhaps because a lot of the country has been having unusually awesome spring weather, making TV viewing early in the night less appealing).

Still, the Glee ratings slide can't be totally explained away by calling it spring fever. The show's numbers have been on a steady decline since the end of season two; this year's fall premiere was down almost 30 percent from the beginning of the show's sophomore year. Fox has already renewed Glee for a fourth season, so the show's short-term future isn't in doubt. Next year, however, will be pivotal. Creator Ryan Murphy and his fellow producers will need to decide whether to shake things up in a major way, hoping a reboot of sorts can bring in new eyeballs, or whether it makes sense to stick to what they've been doing and hope to keep the show's still solid core audience happy. Meanwhile, we continue to believe Fox may be strongly considering changing the way it programs Glee, either by moving the show to a new night (Mondays? Thursdays?) or perhaps by airing the show in one long stretch of uninterrupted episodes, a la 24. If none of this works, maybe Fox could just air a GIF of Artie being pushed into a pool for an hour each Tuesday.