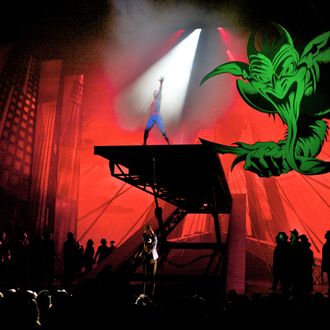 A scene from "SPIDER-MAN Turn Off The Dark" © Jacob Cohl
Photo: Jacob Cohl/2010 8 Legged Productions, LLC, ? 2010 8 Legged Productions, LLC.
Richard Kobak, a stuntman from the legally and mechanically troubled Spider-Man: Turn Off the Dark, is taking legal action over injuries sustained while performing several of the musical's flying sequences. Kobak replaced Christopher Tierney, the actor who fell 30 feet from a platform and broke his ribs during previews, as Spider-Man's stunt double; he claims that technical errors on the part of the crew led to several hard falls, causing holes in his right and left knees. Kobak's affidavit also describes an incident in which he "was pulled straight into the wall striking [his] head and face into the wall," leading to a concussion, herniated discs, and other injuries. He is the first injured performer to start legal proceedings against Turn Off the Dark, though several other cast members have sustained injuries as well. The production's legal battle with ousted creator-director Julie Taymor is ongoing.