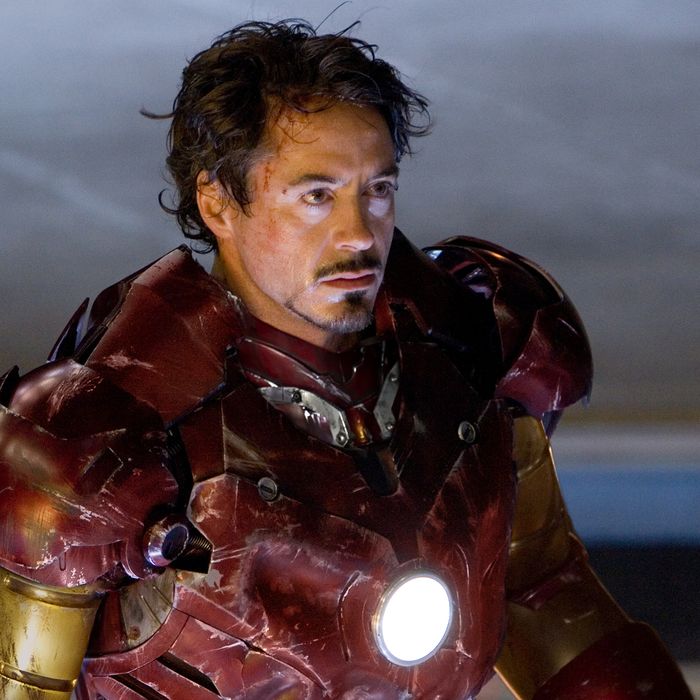 Photo: Zade Rosenthal/Marvel
Global weapons dealer Tony Stark might be comfortable doing business with just about anyone whose checks clear. Disney is about to find out whether Robert Downey Jr. is just as blasé.
As China has become more and more of an economic juggernaut, its influence in Hollywood has followed suit. Last year, China's movie-ticket sales exploded by almost a third to just over $2 billion, overtaking Japan as the world's second biggest box-office market after the U.S. Unfortunately, it's not the only thing aflame in China: Dozens of Tibetans — many of them Buddhist monks — have set themselves on fire to protest Chinese rule and human-rights violations in one of the biggest waves of self-immolation in modern memory.
As such, yesterday's news that the Walt Disney Co.–owned Marvel Studios film Iron Man 3 will now be a co-production with Chinese media company DMG is particularly fraught, since that movie's star, Robert Downey Jr. — a self-described "Jew-Bu," or Jewish Buddhist — is one of the world's more famous practitioners of the faith.
As the Los Angeles Times noted yesterday, "DMG boasts close working ties with the state-run China Film Group, the country's biggest studio and monopoly importer. DMG helped China Film Group with the production and marketing of two recent major propaganda films, one made to mark the 60th anniversary of the People's Republic in 2009 and the other the 90th anniversary of the Chinese Communist Party."
The burning question here is whether Disney's sudden embrace of China on a third Iron Man will put it at odds with Downey Jr., who has often attended pro-Tibet events in the past (like the annual Christie's auction to benefit Tibet House US, where he has walked the red carpet, most recently in 2006) and what that might mean for the movie's marketing within China, too. (Downey Jr.'s spokesman, Alan Nierob, said that he was unclear whether Downey Jr. had yet heard of the DMG deal, as the actor was en route to Russia for an Avengers junket.)
For years, anyone who criticized the Chinese government's egregious human-rights violations in Tibet — no matter how famous, and in some cases, especially if they were famous — was quickly added to a blacklist of those no longer permitted to enter China and/or Tibet. After starring in the 1997 film Seven Years in Tibet, Brad Pitt was reportedly banned for life from entering the Chinese mainland for the sin of portraying the young Dalai Lama in a positive light. Director Martin Scorsese was banned from entering Tibet for making Kundun, a film about the early life of the Dalai Lama and the Chinese invasion of the spiritual leader's homeland in 1950. And after Harrison Ford — himself also a committed Buddhist — spoke before the U.S. Senate Foreign Relations Committee in 1995 to support Tibetan rights, the Chinese government banned the actor from ever visiting, too.
Despite all that, it's easy to see Disney's motivation for getting into bed with DMG, one of China's top advertising and marketing companies: Since the mid-nineties, China's state-owned film distributors have capped the amount of box-office revenue American film studios can earn from releases in China to no more than 13 percent, though it recently raised the limit to 25 percent. In February, the Chinese government also announced it would increase the number of non-Chinese films allowed onto their shores, from 20 to 34, though the additional 14 films must be made in 3-D or IMAX formats.
However, foreign films co-produced in China are not counted toward the communist government's annual import limits on foreign films. So when news of the deal between DMG and Marvel was announced, it became clear that Disney had decided to cover its bases just in case filmmaker Shane Black decides not to shoot Iron Man 3 in 3-D. (Though many now expect he will.) Either way, the film is a lock for Chinese distribution.
Whatever happens, though, the growth of the Asian tiger is matched only by Hollywood's lust to tame it, which will likely continue to bump inconveniently into celebrity consciences. (See this Wall Street Journal piece for a look at the problems that can arise when working with China.) Last month, DreamWorks Animation formed a joint venture with three Chinese companies to make animated and live-action material, with DreamWorks retaining a 45 percent stake in the venture. Just last June, Legendary Entertainment, the financier of The Dark Knight Rises, partnered with the Chinese studio Huayi Brothers Media Corp. to gain better access to the market, and rival Relativity Media also took on other mainland Chinese financial partners for the same reasons. Then again, this should come as no surprise. "People are born," the Confucian philosopher Xun Zi famously noted some 2,300 years ago, "with a liking for profit."