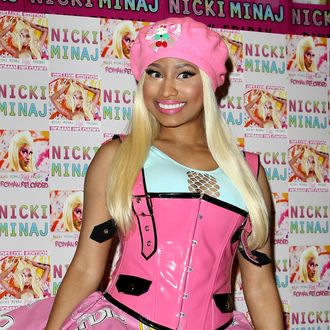 Minaj in London. (Danny Martindale/Getty Images)
Photo: Danny Martindale/2012 Getty Images
Several days ago, peeved that a fan site had leaked tracks from Roman Reloaded, Nicki Minaj diva-stormed off Twitter: "Like seriously, its but so much a person can take. Good fucking bye." She left behind 11 million Twitter followers and a lot of unanswered questions, a few of which she sort of answered during an (S&M-garbed) appearance on the Graham Norton show to publicize her U.K. tour. "A voice in my head told me to delete my Twitter and that's what I did," she said, though it's unclear if this is the same voice that tells her what color wig to wear each morning. She is, however, mulling a return. "I miss my Barbz, please bear with me."
Soon after, she went on BBC Radio 1 and decided to go all cryptic about her career prospects with this mouthful.
People aren't even giving the kid props for taking it back to the essence. […] This is my fourth mixtape. The kid did like that so she could feed her fans. But really, now the kid is thinking maybe she should leave the game.
So, if "the kid" is Minaj speaking about herself in the third person and "the game" means the music business, then what does that mean for us? Hopefully, we're just reading a little too much into Nicki's enviable weirdness, so let's hold off panicking until her Minajesty's next proclamation.