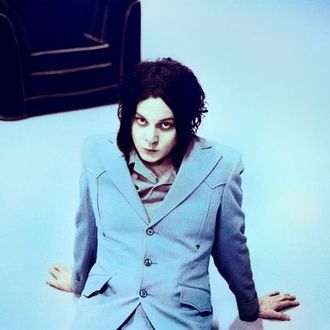 In this weekend's New York Times Magazine, Josh Eells goes long on Jack White with a profile full of very specific aesthetic details about White's Nashville existence (he keeps a cowbell and an antique ice-cream scoop on his desk; he hates the color tan, at least when applied to bedrooms), a good dose of family history, and some Jack White self-mythologizing for good measure. The whole thing is worth a read, but if you're looking for the quick White Stripes update, Jack claims it was Meg's decision to break up the band and he's still game.
"I'd make a White Stripes record right now. I'd be in the White Stripes for the rest of my life.  That band is the most challenging, important, fulfilling thing ever to happen to me. I wish it was still here. It's something I really, really miss." "
And also:
 "Meg completely controlled the White Stripes. She's the most stubborn person I've ever met, and you don't even get to know the reasons."
White also shares his thoughts on monogamy (not so into it) and says that RZA is kind of responsible for his solo album Blunderbuss. (RZA was a no-show for a recording session, so Jack just started doing his own stuff.) And Bob Dylan taught him how to weld:

"I'd never done it before, and he'd been doing it for a while, so he kind of gave me the lowdown," he said. One day the two of them were sitting on White's front porch, just enjoying the view, when Dylan turned to him and said, "You know, Jack — I could do something about that gate." "That would be pretty cool," White said, laughing. "I don't know what kind of discount I'm going to get."
Two more points: He wants to open a hat shop, and he installed gutter microphones in his house so that he could hear the rain. There's plenty more!