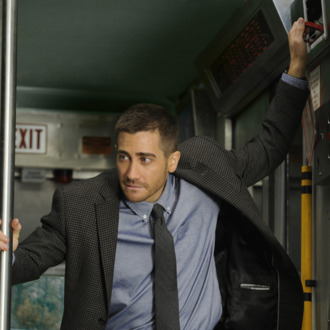 JAKE GYLLENHAAL stars in SOURCE CODE.
Photo: Photo: Jonathan Wenk/?2010 Summit Entertainment, LLC. All Rights Reserved
Jake Gyllenhaal, who most recently could be found eating worms with Bear Grylls and killing hipsters with French electro bands, has plotted out a slightly more conventional path for the summer months. He's doing a play! Specifically, the Roundabout Theatre Company's production of If There Is I Haven't Found It Yet, which will begin performances Off Broadway on August 24. The play centers on "an overweight teenager's relationship to her drifter uncle" (Gyllenhall), and it will be Gyllenhaal's American stage debut. Or, put another way, it will be American theatergoers first opportunity to sit in the same relatively small room as Jake G and maybe share his oxygen, so, mark your calendars.