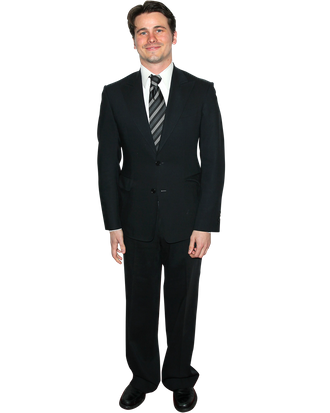 Photo: David Livingston/Getty Images
Jason Ritter is at the Tribeca Film Festival* with his new film Free Samples, in which he and his friends try to operate an ice-cream truck, but very little work actually gets done: The head of operations (played by Halley Feiffer) is busy organizing an intervention for her brother, her main helper (played by Jess Weixler) is hungover, and Ritter's character is trying to reach the ice-cream dispenser without revealing to customers that he has no pants on. The actor, who could probably use some ice cream himself since he's stuck shooting a movie in the California desert, chatted with Vulture, prior to the film's world premiere on April 20, about time travel, worshiping Fred Savage, and baring it all for co-star Jesse Eisenberg.
You're in Joshua Tree shooting a movie at the moment?
Yeah, Teddy Bears. It's about this guy [played by David Krumholtz] who invites his girlfriend and two other couples out to his favorite place, because he has a strange request of all of us, which throws us into a tailspin. Basically, his mother just died of cancer, and he says that in order to heal, he needs a lot of love, so he wants to sleep with all the women in the room [Gillian Jacobs, Melanie Lynskey, and Ahna O'Reilly]. And he's very serious about it. This isn't a random, shallow thing in his mind — it's a deep need. So yeah, we're here in Joshua Tree for the week.
So that's your excuse for not being at Tribeca. [Editor's note: Ritter was able to make it to the festival after all.] What are you doing for fun in the desert?
We go to the Integratron. This guy back in the fifties, George Van Tassel, said he was having psychic connections with aliens, and the aliens from Venus came down in a spaceship and took him aboard, and gave him these plans to build this thing, which was supposed to rejuvenate human tissue and add 50 years to our lives and save humankind from itself. And also be a time machine. [Laughs] He never finished it, so we can't time travel, but the dome happens to be a perfect acoustic space. You can whisper at one end of it and someone can hear you on the other side. So we go and lie on rugs in the middle and have a sound bath.
Did you have any little adventures shooting Free Samples?
We shot that in L.A., so there's none of the strange-new-place aspect. I slept on the bed, not the couch like my character does, so I can promise you, I did not wet the couch like my character does. [Laughs]
Good, because your film raises several etiquette questions when that happens: If you do have an "accident" at someone else's home, do you leave a note? Money? How much? What do you do?
[Laughs] Yeah, you have to leave money. Proper etiquette dictates that you leave money. Wally leaves twenty bucks. He probably should have attempted to clean it himself, but he probably has no idea what it would take to clean a couch. He's probably the kind of guy who vomits on people's shirts and says, "Here's some money for dry cleaning. Sorry!" And that's about as much as he's thought about it. But so far in my life, I have not done that. I am house-trained. [Laughs] I didn't choose to play him because that's what I connected to.
Did you connect to him more because he has a lifelong dream of serving people ice cream with his pants off?
That is something I did connect to more. Not that naked part, but trying to get away with something that seems so totally innocent, but is kind of bizarre if you're caught doing it.
You seem to always take your pants off when you're in a film with Jesse Eisenberg.
I guess the rule is, if I'm in a film with Jesse, I have to show my butt. It's in his contract: I have to humiliate myself. He's got a sick fascination with my butt. [Laughs] Maybe it's a generational thing, but a lot of actors these days show their butts. It's not like we're trying to show our butts because it's some terrible movie late at night on some weird channel like it used to be, but if our characters like to get naked, that's representative of life. We're holding up a mirror — to our butts. [Laughs]
Your other Free Samples co-star Jess Weixler is someone else you work with a lot. And you re-team with her for the Jason Katims hospital drama pilot County.
She's one of the most incredible actresses around. Even getting to do that scene with her in the ice cream truck was so much fun. She keeps me on my toes. And I love Jason Katims, and it's one of the things I'm so excited about. I had such a great time as a recurring character on [his other show] Parenthood that I knew even before I got the script for County, whatever it was, that I would want to do it. And it's dramatic but not overly melodramatic. It's like how real life can be serious and also funny. It's about six interns at one of the toughest hospitals, in terms of being overwhelmed with patients, being underfunded, understaffed.   
If County gets picked up, what happens to Mark and Sarah on Parenthood? Can you make it work so that Lauren Graham doesn't get dumped just because you're on another show?
I love how people are going, "Oh God, it's going to break them up!" I think the characters are so far in that relationship that you can't just end it abruptly, especially when I've just asked her to marry me. It's not as if County is a one-guy show — it's about all six of us — so I'll have time to run back and forth. So we'll see what happens. Whatever they choose, it's going to make me weepy when I watch it. I would get weepy watching Friday Night Lights, too.
So I hear you kept a picture of Fred Savage on your wall growing up? Why?
I wanted to be an actor, and he was the king. I watched The Wonder Years and The Princess Bride and he seemed like a nice, solid dude. Smart but not nerdy, cool, funny, so he was my hero growing up. My dad actually got me that autographed picture. He didn't write a letter to Fred; I don't know how he got it, but my parents didn't really want me to be a child actor. They said, "Why don't you wait? It'll probably be better if you do it as a grown-up." So I would look at the picture and say, "One day, sir!"
*An earlier version of this post said that Ritter was not able to make it to the festival; it has been updated to show that he was able to attend after all.