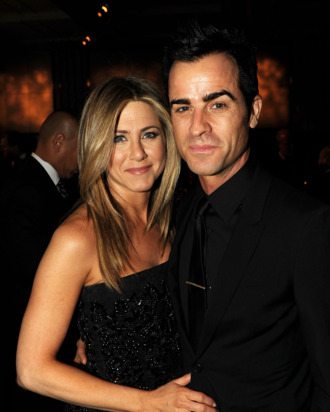 68034, NEW YORK, NEW YORK - Sunday October 9, 2011. **EXCLUSIVE** Jennifer Aniston, with her beau Justin Theroux closely behind her, seen exiting an office building in New York City. Dutiful boyfriend Theroux made sure to carry Jen's bags as the two (both wearing fedoras and gold necklaces) got into a waiting limo outside.
Photo: Kevin Winter/Getty Images
The recent comedy Wanderlust didn't set the box office on fire, but it did provide the real-life romantic spark for co-stars Jennifer Aniston and Justin Theroux, and now the two are ready to re-team. Deadline reports that Aniston has attached herself to a new comic heist thriller that Theroux wrote and will direct, though let's hope this doesn't get in the way of Theroux's Zoolander 2 gig, since he's been attached to direct that film for a long time now. In addition, Aniston may pick up the female lead in We're the Millers, where she'd star opposite Jason Bateman as a stripper who teams up with a pot dealer to transport a thousand pounds of drugs across the country; Aniston and Bateman previously co-starred together in Horrible Bosses and The Switch. Jennifer Aniston: very loyal.