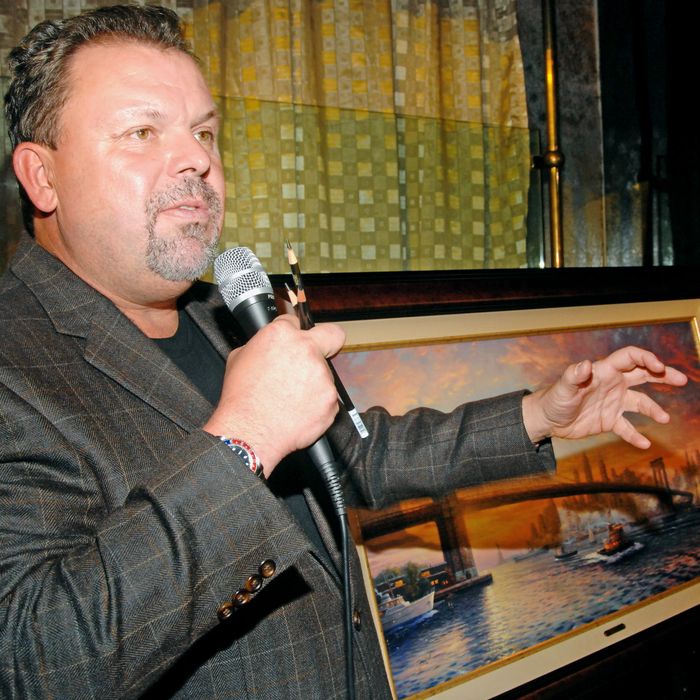 Kinkade in 2006.
Photo: Brad Barket/Getty Images
"I view art as an inspirational tool. People who put my paintings on their walls are putting their values on their walls." The words aren't those of Gerhard Richter or Joseph Beuys. They're not by Picasso, Mondrian, Malevich, or any other messianic modernist. They come from Thomas Kinkade, the epitome of sentimental, illustrational, conservative art, the self-described "painter of light," who died on Friday at 54. Kinkade, who made dreamy scenes of suburbia, classic cottages, pretty gardens, lighthouses alone on stormy shores, saccharine pictures of small villages, and Christian images celebrating Jesus, poses an interesting thought problem about kitsch and so-called "real art" to the wider art world.
Even in the thirties, Clement Greenberg worried about kitsch, the split between popular and avant-garde taste. "The same culture produces a painting by Braque and a Saturday Evening Post cover," he wrote, fretting that "real art would not stand a chance next to … Norman Rockwell." I've always thought that this is fine; people should like whatever they want to like. And they do like Kinkade: It's estimated that he sold around $100 million worth of art each year. (The art world went nuts when Damien Hirst sold just one dopey diamond-encrusted skull trinket for that amount.)
Kinkade estimated that one of his paintings hung in every twenty homes in America. Yet the art world unanimously ignores or reviles him. Me included. This weekend I got slapped in the Washington Post's Kinkade obituary for once writing, "Art is not democratic. It isn't about the biggest market share or the best sales. If that were true then Thomas Kinkade would be the greatest artist who ever lived." Those who love him love that he sells the most art; they take it as a point of faith that this proves Kinkade is the best. But his fans don't only rely on this supply-and-demand justification. They go back to values. As the Kinkade website says, "Thom painted over 1,000 masterworks … hidden in his paintings are messages that speak to Thom's inspiration for each image [which] contains treasures that add to their mystique." The paintings are good, in other words, because the values in them are good. I'm not sure what this makes Goya's "Saturn Devouring his Children," all of Balthus, those sexy prehistoric statues of giant-breasted women, or tens of thousands of Japanese and Indian images of sexual intercourse.
The reason the art world doesn't love Kinkade isn't that it hates love, life, goodness, or God. We may be silly or soulless or whatever, but we don't automatically hate things with faith and love or that other people love. We're not sociopaths. (Well, most of us aren't.) The reason the art world doesn't respond to Kinkade is because none — not one — of his ideas about subject-matter, surface, color, composition, touch, scale, form, or skill is remotely original. They're all cliché and already told. This is why Kinkade's pictures strike those in the art world as either prepackaged, ersatz, contrived, or cynical. Unoriginal rote things done in his perfectly conventional, balanced people-pleasing way produced these confected conglomerations of things people wanted to think they wanted to think about, democratic paintings whose meanings are hidden from no one, whose appeal is to not to vex or disturb, to produce doubt or newness. As Kinkade said, "I work to create images that project a serene simplicity that can be appreciated and enjoyed by everyone." Joan Didion wrote that Kinkade's pictures "typically feature a cottage or a house of such insistent coziness as to seem actually sinister, suggestive of a trap designed to attract Hansel and Gretel. Every window lit, to lurid effect, as if the interior of the structure might be on fire."
Kinkade's "serene simplicity" wasn't limited to his ideas about imagery. They had everything to do with what Andy Warhol called "business art." Kinkade was willing to go the full Warhol. He mass-produced his pictures, making prints and images painted by factories filled with assistants. A recent ad advertised "a Master Highlighter Event … an 8-hour personal stage appearance by a certified Thomas Kinkade Master Highlighter. At the event, a highlighter enhances images of the gallery's choice." Needless to say, these are the very things that artists like Kinkade, and of late David Hockney, have railed about when they're done by Jeff Koons, Takashi Murakami, or Damien Hirst. In fact Kinkade makes Koons & Co. look like a boutique. After all, Jeff Koons never built his own gated communities in California, with houses and grounds in the likeness of his paintings, with starting prices at $425,000. (As for creating serenity, it's often mentioned that Kinkade "has a long history of cursing and heckling other artists and performers … that he openly groped a woman's breasts … and once relieved himself on a Winnie the Pooh figure while saying "This one's for you, Walt." Actually, except for the groping, he suddenly sounds interesting. )
Kinkade's paintings are worthless schmaltz, and the lamestream media that love him are wrong. However, I'd love to see a museum mount a
small show of Kinkade's work. I would like the art world and the wider world to argue about him in public, out in the open. Kinkade once said his goal was to "make people happy." I'm not sure if there's anything to be learned from happy public reactions at a museum to Kinkade's paintings, but I'm more than happy to, as he put it, test our values on their walls.