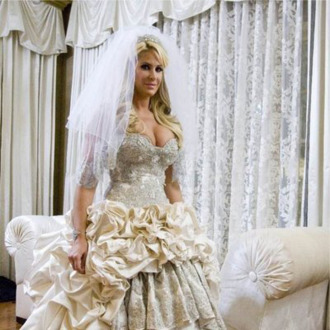 Photo: Wilford Harewood/Bravo
Next week brings the premiere of Don't Be Tardy for the Wedding, a Bravo show following Real Housewives of Atlanta star Kim Zolciak's as she plans her nuptials (riveting, I'm sure). Tardy has the unusual distinction of being a spinoff of a spinoff — well, it'd be unusual elsewhere, but not on Bravo.
It's the second spinoff of a spinoff on Bravo this year alone. Tabatha Takes Over is a spinoff of Tabatha's Salon Takover, which itself was spun off of the first season of the tragically defunct hair-cutting competition show Shear Genius. And there's a show that goes a step further: Bethenny Ever After is a follow-up to Bethenny Getting Married, which is a spinoff of Real Housewives of New York, which is a spinoff of Real Housewives of Orange County. Of the 42 most recent shows (including upcoming shows that already have premiere dates), six are Real Housewives variants, seven are about fashion, six are about real estate, and five are about food. A full twenty are spinoffs of some kind, including three format spinoffs ("Like Project Runway, but with [insert industry here]"). Plus Watch What Happens Live, which isn't a spinoff exactly, but it'd be hard to imagine that show launching without any other Bravo programming. It's like one giant spinoff.
Other networks are guilty of repetitive franchises and hypercopying, too, but even in the celeb-reality heyday of VH1, nothing quite approached this level of self-spawning. Bravo's become host to parasitic self-replicating monsters that generations of sci-fi have warned us about, but instead of terrifying alien robots who are designed to build new models in their own evil likenesses, our world is being taken over by the dramatically presentational and volatile species drawn to reality stardom. Which is worse.