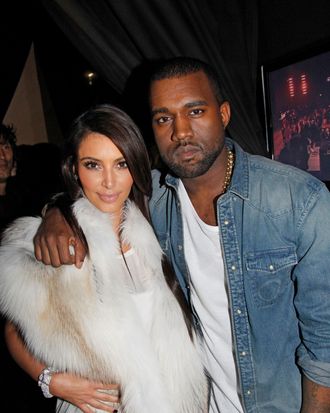 Kim Kardashian and Kanye West attend the Kanye West Ready-To-Wear Fall/Winter 2012 show as part of Paris Fashion Week at Halle Freyssinet on March 6, 2012 in Paris, France.
Photo: Eric Ryan/Getty Images
If you did not get a chance to blast "Theraflu" (Kanye's new single, not the medicine) before it was snatched from the Internet, here are today's most-quoted lines: "And now I admit I fell in love with Kim / Around the same time she fell in love with him / Well that's cool babygirl, do your thing / Lucky I ain't had Jay drop him from the team." The Kim, of course, is Kardashian, and the second "him" would be her ex-husband Kris Humphries, who plays for the Hov-owned Nets. The song references years of speculation about a 'Ye-Kim hookup, but in case "Theraflu" didn't make it clear, Kanye and Kim have been swanning around New York City for the past 24 hours on a very public marathon date. Last night, they went to see The Hunger Games.  Today, she and Kanye had lunch at Serafina — outside, in full view of photographers — and then went to FAO Schwartz.  So, was "Theraflu" their relationship coming-out song?  Or is this just a publicity stunt? More important: What else should they do on their never-ending date? Statue of Liberty? Sleep No More?  Update: Wait, US Weekly says they actually went to Sleep No More last night.  Perfect.