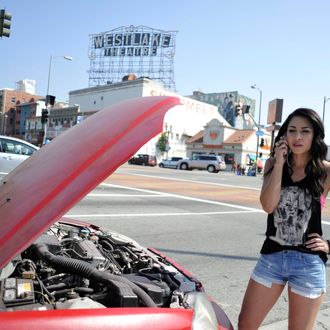 Photo: Darren Michaels/Courtesy of Epitome Pictures Inc.
A sudsy, fun show set in a dingy L.A. apartment complex full of attractive, bed-hopping residents, with an ethnically and sexually diverse cast and a very au courant but un-cynical attitude about safe sex, drug use, and "partying." Once upon a time, Melrose Place pulled in close to 14 million viewers for Fox. Last night on the CW, The L.A. Complex debuted to 630,000.
That makes it the lowest-rated network drama premiere ever.
The CW barely counts as a network these days, and The L.A. Complex is a Canadian import that's already been renewed in its homeland for another season, CW or no CW. But the weird bummer here is that the show is actually good. Not Breaking Bad good, but certainly as good — if not better — than anything else on the CW or ABC Family. It knows itself pretty well; the characters all make total sense and have senses of humor about themselves. It's not groundbreaking television, but The L.A. Complex moves at exactly the right pace for a light drama, and it plays at the top of its intelligence. It's light on meaningless shenanigans but heavy on credible personal drama, including why one might make a sex tape or attend AA meetings "just for the networking."
You want Degrassi alumni? Behold Cassie "Manny Santos" Steele, here as a struggling actress. (The show was initially conceived as sort of a spinoff of Degrassi but is instead a new show; Steele plays Abby, who is basically Manny crossed with the spirit of Vanessa Hudgens.) You want an alum from a more obscure Canadian teen drama? Behold Kristopher Turner, formerly known as the dweeby best friend guy from Instant Star, now as a less-dweeby aspiring screenwriter. You want an alum from an even more obscure Canadian teen drama? Behold the girl from Radio Free Roscoe, now playing a marginally successful actress on a doctor show. What else could you possibly ask for, America?