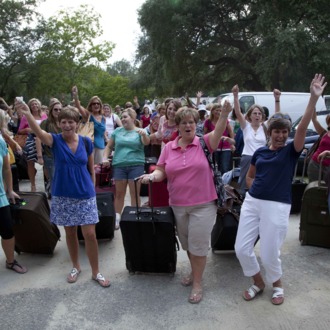 The women of The Week the Women Went wave goodbye.
The network that once billed itself as "Television for Women" is getting ready to unleash a reality show that imagines a society in which womenfolk do not exist. Vulture hears that later today, Lifetime will announce a June 6 premiere for The Week the Women Went, a five-episode docudrama in which producers extracted all of the adult women from the small town of Yemassee, South Carolina, and then watched as everyone with a Y chromosome was left to fend for himself, raising the kids, tending to home, and operating all the local businesses. It's like Wife Swap if the other mother never showed up.
TWTWW is actually based on a seven-year-old unscripted format pioneered by the BBC back in 2005 and since exported to numerous countries around the world. The American version was put together by exec producer Jon Kroll (The Amazing Race) and BBC Worldwide Productions, and it looks as if they decided to keep many of the documentary aspects of the show intact. "The unscripted series will explore modern gender roles," a Lifetime press release for the show notes, calling it "a daring social experiment." Of course, while that language suggests TWTWW won't be the usual reality-TV train wreck, Lifetime is still Lifetime: The same release that says the show will allow men and women to "learn about themselves and their roles in the home" (stifled yawn) also promises to show "old rivalries renewed and deep secrets exposed." (That's more like it!)

Production on the U.S. TWTWW took place in early August last year, with producers choosing Yemassee — about 240 miles away from Atlanta — following a selection process in which roughly 100 small communities were considered. Wendy Walsh, a TV psychologist who pops up frequently on CNN and has played a TV reporter in movies such as The Day After Tomorrow and The Cable Guy, will narrate TWTWW. Lifetime isn't ready to release video from the show, but you can check out the teaser promo for the original BBC Three series, in which one man compares the experience of a week sans females to being "a dog with two dicks." Cheeky Brits!