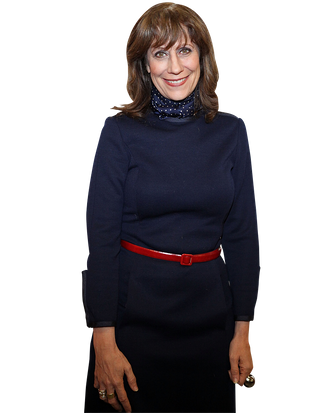 Lizz Winstead.
Photo: Robin Marchant/Getty Images
Lizz Winstead didn't just create The Daily Show, serving as the show's first head writer back in the Craig Kilborn era — she helped put both Stephen Colbert and Rachel Maddow on the map. She plucked Colbert from morning television (he was doing goofy little segments for Good Morning America), and she discovered Maddow on a morning radio show in Northampton, Massachusetts, then signed her for a political talk show co-hosted by Chuck D on Air America. This is all in Winstead's new book, Lizz Free or Die, which shows how the Minneapolis native found her place as a feminist stand-up and political satirist in New York. (Watch the book trailer, below.) We talked to her about romance on the set of The Daily Show, what she thinks about Girls (everyone has an opinion), and wanting to be a priest. 
As a kid, you decided you would become either a priest or a rock star. Why did you want so much attention?
I think part of it has to be the simple psychology of being the youngest of five kids. Five really opinionated children and two opinionated parents. You could barely squeeze a fucking thing in, at all. You just weren't heard. I just wanted to have an uninterrupted time in my life where I could say something and nobody would change the subject or start talking or sit there and pretend they were listening when they were merely waiting to say what they wanted to say. And as a kid, the only people that I ever saw who could (a) do that and (b) didn't have children, were priests and rock stars. It was less of a calling and more of — they were in a position to say things or sing things that compelled people to shut the fuck up.
The scene where you're talking to the young hip priest about why you can't be an altar boy — it's like your brain doesn't react to what he's saying in a way that some other kid's would have. Like you're missing social cues.
When I heard something that doesn't make sense … it's almost worse for a kid. Because we still don't have fully developed logic, like, Oh, you have an agenda. And so when I asked questions, I wasn't trying to be an asshole. I was trying to solve the problem for both of us: "Well, that seems dumb. We can just call it an altar girl." I wasn't trying to be a rebel. I was just trying to make it work. I just fucking didn't want to babysit.
You were a female comic when the unspoken rule was, to quote the male audience's perspective in your book, "I'm fine with a woman onstage as long as her act reiterates how shitty she feels about herself." But when was the turning point for funny women onstage? The alternative-comedy scene?
The alternative-comedy scene has played a tremendous role, and because it came in tandem with the internet. People could say, "Fuck it, I don't need to do Letterman, I can make an amazing YouTube video." The Internet allowed people to do that. And to be able to watch Livia Scott or Kristen Schaal, people who are living lives that are maybe off center and talking about it, it's pretty great. But it was so bizarre to realize that even with my hackiest material, if I framed it in any way that was at all declarative, it changed the entire way the audience looked at me.
It still sounds like it's hard to take a declarative stance as a female comedian. Even Girls is about self-deprecation.
It is. I've only seen the first episode — the second is on my DVR — but the assessment I have is that the characters are super realistic. And I've met all those women — they're very real. But my problem, as I've watched their apathy unfold, the women feel slightly detached to me, and what's interesting from an entertainment consumer's perspective is if the characters are detached, how do I, as a viewer, root for someone or invest in someone? Because they're not investing in life.
It was interesting to read that Comedy Central pretty much pitched The Daily Show to you.
Yeah! That's right. That's exactly what they did. I could never write down the feeling that I had when they started saying this to me. I could not believe that I was going to be part of this. I simply could not. It's not often that people get their dream show as their first show when they're not ready, they don't have the skills, but there's no way you're turning it down. So you have to make up shit and make a whole bunch of mistakes because you don't know what you're doing. I was in constant panic mode.
Another thing I learned from the book is that Jon Stewart was actually your first choice to host The Daily Show. How do you think the show would be different now if he had been in the chair from the beginning instead of Kilborn?
When we launched the show with Craig, it was more in the vein of Colbert, where everybody was in character. Craig never broke character. So it probably would've grown faster into having Jon be this hilarious editorial man of the people surrounded by the nutty correspondents. It would've become that much faster. But we also just went with the media we were given. And at the time, it was a very different media back. So much celebu-tabloid crap and so much trial-of-the-century and all the newsmagazines and exploitative crap.
And I didn't know there was some Broadcast News–style romance on the set. You and Brian Unger, whom you credit with innovating The Daily Show's "cocked eyebrow style" on-the-field pieces, were a couple?
Yes! Brian Unger and I started out as boyfriend and girlfriend for years and then we broke up about a year in. Like I said in the book, we were both having affairs, but both the affairs were with the show. Brian stars in the book trailer. I'm not in it, so I can say it's hilarious. And Brian is the best. You can go back and see those old pieces and see how influential his style was on that whole genre. He came from news and he was disgusted by news and was sort of terrified to leave, but he realized what he went to school for was never going to happen.
Unger was the first and maybe the best. But so many Daily Show correspondents have gone on to have huge careers, whether it's Colbert or Steve Carell or Ed Helms. I interviewed Rachael Harris for Vulture a few weeks ago and we were wondering why The Daily Show hasn't been the same launching pad for their female correspondents. Do you have a theory?
That's a really good question. I actually don't know the answer to that. Because there's been hilarious, hilarious women. Because you look at Sam Bee or Nancy Walls or Beth Littleford, and Beth has a show on ABC Family channel, she's had a nice career …
But she hasn't had 100 million dollar movies.
That's true. And you know, now that you've brought that up, I'm annoyed. Because a lot of women have been genius on that show and should've been launched into the stratosphere. And you know, I wonder if this might all change now that people are finally understanding that women are funny with Bridesmaids. But now that you say that, I'm realizing that it's true. I wish I had something more interesting to say, other than that now I'm kind of annoyed.