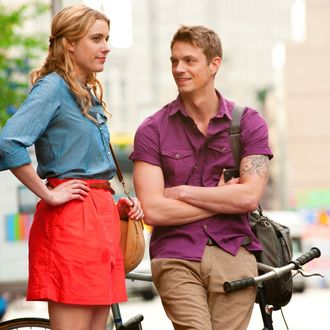 Greta Gerwig, Joel Kinnaman.
Photo: Myles Aronowitz/?2011 Myles Aronowitz
In the mood for a romantic comedy to go to this summer when you tire of all the superhero Sturm und Drang? Fox Searchlight has got you covered: The studio found great seasonal success a few years ago with (500) Days of Summer, and this June, Searchlight's readying the indie rom-com Lola Versus, starring Greta Gerwig. Made by Daryl Wein and Zoe Lister-Jones (who also helmed Breaking Upwards), Gerwig stars as Lola, a woman on the brink of 30 who's dumped a mere three weeks before her wedding to longtime boyfriend Luke (The Killing's Joel Kinnaman). Now that she's unexpectedly single and about to leave her twenties behind, can Lola's friends and a series of desperate new flings help get her over the hump? Lola Versus is out in select theaters June 8 with a nationwide release to follow, and in the meantime, Vulture's got the exclusive first look at the film's poster. Enjoy!