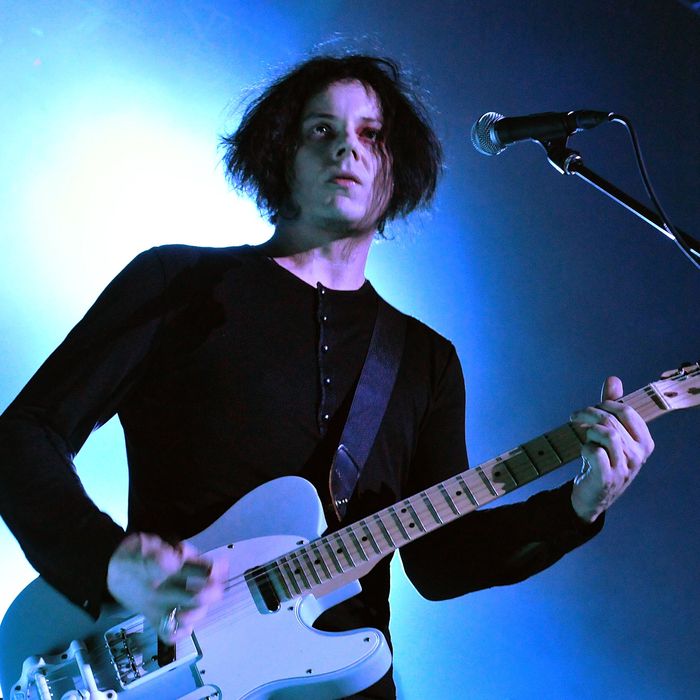 Jack White muses on the evil women who done him wrong.
Photo: Jim Dyson/Getty Images
A few months ago, Jack White told a journalist that his solo debut, Blunderbuss, was about death. Listening to the record, it seems safe to assume he meant "death" in a roundabout, metaphorical way, as in the sense of things ending — like the death of his band, the White Stripes, and his working relationship with drummer Meg White, or the death of his marriage to Karen Elson. You could, however, pretty easily just listen to the first half of the record and come away convinced he's trying to suggest that dealing with certain women might as well be death, so horrible are they and their selfish needs and complete lack of regard for the independence of a guy like Jack White. "No responsibility, no guilt, no morals cloud her judgment," he sings. "She don't care that what she does has an effect on you," he sings. "Sometimes someone controls everything about you," he sings. Even the obligatory cover, "I'm Shakin'," alludes to Samson and Delilah, one of the foundational texts of women-will-ruin-you literature. Granted, White does not explicitly sing that dealing with Certain Women is as bad as dying. But he does, in multiple songs, compare it to having parts of one's body methodically hacked off and stolen. Rubbing of the bloody wounds and stumps in salt is optional, and appears on only one track.
As with all things related to Jack White and other lovers of the blues, the relationship between these songs and reality might be a highly theatrical one. Ex-wife Elson is right there singing backing vocals on Blunderbuss. (In fact, when White sings "Samson was a mighty good man," that sounds like her responding "then along came Delilah and clipped his wig.") And it'll be left to Stripesologists of the future to pore over the songs about Meg. I'll just note one thing about "Hip (Eponymous) Poor Boy," the jaunty gloating postcard of a song that promises "You'll be watching me, girl, taking over the world / Let the stripes unfurl": After all the lines about having parts of himself cut off and absconded with, it's odd to hear Jack point out that he's taken his ex-drummer ex-wife's own name. (Specifically: "I'll be using your name," he sings!) He, after all, was born John Gillis and took Meg White's real surname when they married — I suppose to save countless music lovers the embarrassment of trying to explain that the Gillis Stripes were much better than they sounded.
I should confess, quickly, that I am a reluctant fan of Jack White, which I like to think is the most flattering variety of fandom: I'm inclined to dislike him, yet I still can't help admitting he usually does fine work. The reason I'm inclined to dislike him is that he has always struck me as an epic bore. A supremely talented bore — so talented that he spends most of his time being exciting — but a bore nonetheless, a bore at heart. It's not his affection for the blues that's the problem, nor his easy-target Luddite tendencies, nor the way his songs exist in a world where payphones cost a dime and have live operators. He is far too gleefully cartoonish and cloistered about such things for them to annoy, and besides, making art frequently benefits from that type of stubbornness — it aids focus. It's not his songwriting, which has always been marvelously balanced; every time a White Stripes album began to seem like it was all just showy yowling, he'd sneak in some incredibly taut or sensitive songwriting, and every time that began to seem like dull, dusty songcraft, he'd throw in some ecstatic yowls. It's not even the strange public love for his studied "weirdness." (A recent Times Magazine profile has him fining employees at his Third Man Records compound for wearing the wrong colors — something which, when done by corporate management for Chipotle or Best Buy, is generally considered soul-crushingly anti-human, not artsy or cool.) It's that he seems to have a fixed, narrow idea of what it means to be Jack White, and he sticks to it with a droning rigor that will send countless eyes rolling as soon as he releases a couple of duds — just as it has with great lovable bores before him, from Bob Dylan to Morrissey.
But consider Blunderbuss. Lyrically, it bears strong resemblance to going out for drinks with a friend who can't stop complaining about his ex, then complaining about the ex before that, then swearing off love altogether (that'd be the song "Love Interruption"), and then — just when you've started encouraging the whole swearing-off approach, because at least then you won't have to hear any more about it — circling straight back to one more infuriating thing about the first ex. But what if this bore of a friend were punctuating his complaints with some really eye-openingly sick guitar leads? The genuinely weird thing about Jack White is how much of the freshness and ecstasy in his songs comes from the kind of cloistered guitar-tone nerdery that is normally argued about by dudes with soldering guns and elaborate opinions about audio cables. The guitar tones on his records have ranged from the bent-out-of-shape to the grottily detuned, from bizarre plastic sounds to thick molten-metal ones, from stringly rattles to squeedling leads — and the bulk of them actually seem to speak, emotionally and kinda thrillingly. What Jack White is saying on the song "Freedom at 21" — the Blunderbuss track he recently released by tying vinyl copies to balloons — seems like one of the most annoying things he's ever put to tape, but what his guitar is saying toward the end is so eloquent it actually wins.
That's not to say Blunderbuss is full of guitar-hero rockers. Now that he's free of the White Stripes duo, Jack's free to paint in a lot more colors — including a lot of lolling country and folk that'd be more at home in parlors and porches than rock clubs. He opts for homey organs and saloon pianos over guitars,  rambling midtempo ballads over rave-ups, and proggy complexity over straightforward bludgeoning. (The great closer, "Take Me with You When You Go," starts as a fiddle-streaked waltz and ends with a run of fuzz guitar and yippy vocalizing.) Blunderbuss manages to sound sunny one minute and bleak the next without ever clearly changing pace between the two. Somewhere along the line, it leads White straight to another gorgeous bit of tone-nerdery, the one that single-handedly justifies both the raven perched on his shoulder on the cover and the line about death. It's Brooke Waggoner's sharp, ornate, and ominous piano, spilling through songs like "Weep Themselves to Sleep"—and occupying some space between honky-tonk and classical that's oddly easy to imagine as exactly how the Grim Reaper might play. Whenever the guitar can't bolt the songs to the modern world by making terrific plastic sounds, the piano does it, every bit as stirringly.
And that goes even for someone with dual allergies to rootsy Americana and insufficiently theatricalized tunes about Bad, Bad Women. (I mean, "she don't care that what she does has an effect on you" sounds more like couples therapy than bad-woman blues.) Protest though he might, it feels likely that the White Stripes' breakup was the best thing that could have happened to this songwriter. Now he can stroll along from idea to idea as he pleases, always sounding undeniably like himself — with such commitment that he should, by all rights, be a galactic bore, and such fervor that he winds up no such thing.