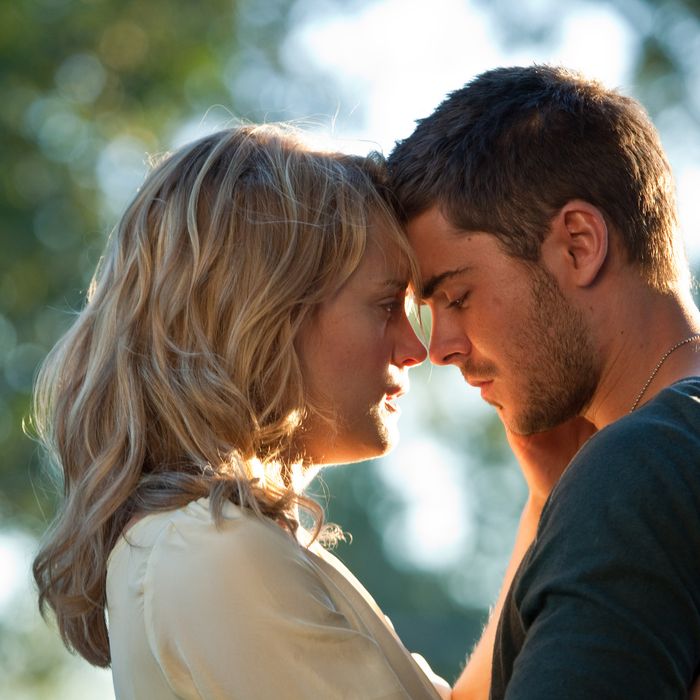 Photo: Alan Markfield/Warner Bros.
When it's sticking to the basics — letting us watch Zac Efron and Taylor Schilling make doe eyes at one another until they finally get it on — you could mistake The Lucky One for an assured, well-conceived romance. Unfortunately, when it's also pretending to be a returning-vet drama, which is often, the serious-movie adornments are ill-fitting.
Or rather, they're ill-fitting on Efron, who hasn't had an easy time finding his edge since he left the primary color fantasy of the High School Musical franchise. The Lucky One, in which he plays a soldier who escapes death thanks to a found snapshot of an unknown beauty, is supposed to prove to us once and for all that he can bring some roughness to his soft screen persona. He's even got stubble now, maybe to offset those impossibly long eyelashes and those sea-blue peepers. But the beard looks painted on, and so does the edge.
The film's early scenes, in which we watch Logan Thibault (Efron) survive numerous firefights and explosions before returning Stateside and suffering a mild case of PTSD, fall dangerously flat. Eventually, however, Logan walks South, where he finds that the mysterious beauty in the photo is Beth (Taylor Schilling), a flesh and blood divorcée and single mom who runs a local kennel. Sparks duly fly, goaded on ever so gently by Beth's demurely de rigeur profane grandma (Blythe Danner). Of course, there's also a lout of an ex-husband, who also happens to be the deputy sheriff and won't stop giving "Soldier Boy" a hard time. (Apparently, Logan landed in the one Southern town where people can make fun of returning veterans.)
The film, adapted from a Nicholas Sparks novel and directed by Scott Hicks (who made Shine and the plangent, stylized, misunderstood Snow Falling on Cedars), hints at a rage inside Logan, but that's all it can really do, given Efron's limitations. One scene where he actually has a screaming fit is shot with the actor out of focus and mostly outside the frame, in slow-motion: Is this cinematic style, or cinematic avoidance? It wouldn't be so distracting if Schilling weren't acting circles around her co-star. Not long after Logan's aforementioned tantrum, we see Beth, tormented by her brother's death, having her own freak-out, flipping over flower pots with angry abandon. Hicks's camera shoots her straight, and Schilling is so supremely convincing here that the idea the film seems to be trying to convey — that Beth and Logan are two wounded souls who've found each other and may together finally temper their inner upset — is replaced by the more unlikely notion that her loss might be the more genuine one.
It's not that Efron is a bad actor, necessarily. Rob Lowe could never brood properly either, but he eventually found plenty of edge. It's not even that he's bad in this particular movie. He and Schilling have real chemistry, and we like seeing them together, even if as actors they're mismatched. Logan wears the same expression when he's asking why he made it out of Iraq alive as he does when he's telling Beth she needs to be kissed "every day, every hour, every minute." Efron's stopped-clock seriousness is more convincing on a melancholy loverboy than it is on a melancholy soldier. We can't quite sense the harrowing torment of lives lost before his eyes, but we can sense the sweet anguish of being around the woman you adore. It'll have to do. As a movie about two young, beautiful people falling in love, The Lucky One mostly gets the job done.