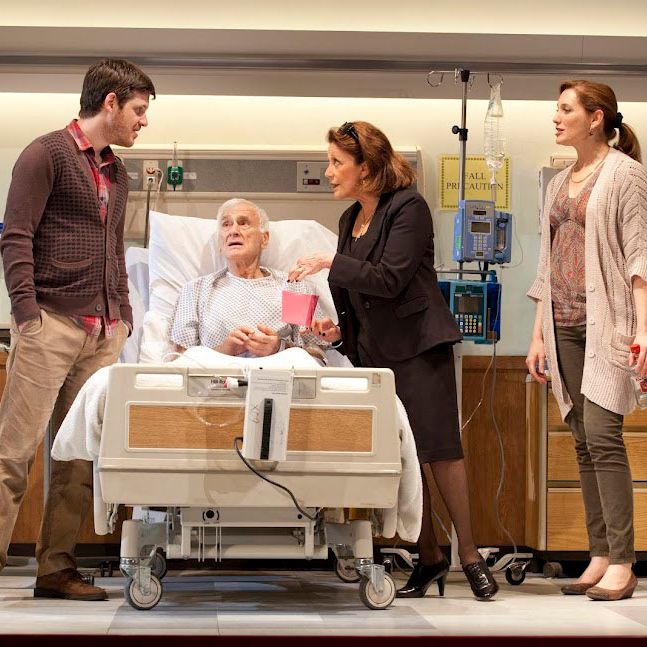 Nicky Silver's debut on Broadway is also a return to form: The Lyons — his jet-black comedy of ineradicable self-interest and families wired to explode, or just corrode — resembles his nineties showpieces of towering pessimism and contempt. True, no one engages in literal cannibalism (à la Fat Men in Skirts) or deliberately infects his insufferable family with AIDS (Pterodactyls), but the old, bold, cold Silver style is very much in evidence. (The badinage is the whole point: I won't give away any here.) I stand by most of what I said when the show opened Off Broadway last fall: Linda Lavin has not just maintained but magnified the vivid grotesque that is Rita Lyons, nerveless and gimlet-eyed matriarch of a rapidly disintegrating clan of neurotics, wife to dying, cantankerous Ben (Dick Latessa), mother to brittle, divorced Lisa (Kate Jennings Grant) and "creepy" — his father's description — Curtis (Michael Esper). This last and lost-est Lyons turns out to be the play's main interest: His life becomes more distressing (and less, shall we say, verifiable) the closer we look at it, and Esper once again provides a fantastically unsettling presence. Few young actors communicate extreme unhappiness like Esper, who manifests unhappiness as a physical ailment, a kind of metaphysical walking pneumonia. You can smell the sickness on him, and, too late, you wonder if he bites, and if what he's got is communicable that way.
It is. The Lyons are a brood of real-life vampires who mostly re-vampirize each other. They are (with one disastrous exception) too inwardly focused to be evangelical about wrecking lives outside their immediate gene pool. And if they're not particularly alluring, they're often dangerously sympathetic. (The only one who displays enough indomitable life force for us to root for turns out to be the most imperially selfish of all.) They're also not quite the same family they were Off Broadway. It's the rare small play that weathers a transfer to the theater district unchanged, and The Lyons is no exception. When a production is inflated to commercial proportions, subtle changes show up in its DNA. Actors playing to the back of a bigger house instinctively ask for more sympathy from their audiences, and ask for it more loudly and insistently. Audiences in bigger, more expensive houses tend to respond to the conventional and repel the un-. Silver's cheapest cheap shots (he's not above a well-worn Jewish-mother joke) pull down the biggest laughs, throwing his tragicomical ecology off a bit. And there's a tad more sticky emotional realism on display, which nudges the play uncomfortably close to naturalism — and making some of its absurd notes sound off-key. The performers ask for more love, incrementally; naturally, they receive less, incrementally. These little transcription errors aren't immediately detectable but accrue over the course of the evening. They're not deadly, though: The Lyons still sizzles with Silver's zingy misanthropy and take-no-prisoners wit. (Lavin, without ever raising her voice above the steady hectoring tone she maintains throughout the show, delivers a ripping eleventh-hour monologue seemingly designed to place her on the Tony short list — not that she wasn't there already.) Silver throws steak knives when darts will do, and his excessiveness in the face of despair is almost heroic, if an act of desperate self-defense and self-preservation can be called heroic. In Silver's dim moral universe, it most certainly can.    

The Lyons is playing at the Cort Theatre.