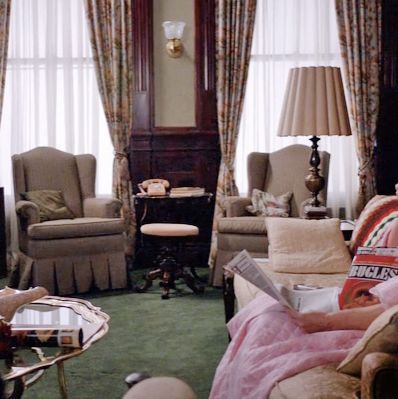 Bugles: The Perfect Treat for Suburban Ennui. Just ask Betty Draper!
Photo: AMC
The admen (and lady) of Sterling Cooper Draper Pryce have sold us on a number of concepts, from the nostalgia power of the Kodak Carousel to the usefulness of Topaz pantyhose. But Betty Draper Francis and her new family are sending a powerful branding message about another product. Bugles, the cone-shaped, corn-based chips from General Mills, have been featured prominently so far this season as the go-to snack of both a newly rotund Betty and her cranky, obese mother-in-law Pauline. And a free-advertising conundrum is born: The characters are shown enjoying Bugles … in service of a story line about weight gain, discontentment, boredom, and lack of self-control.
Showrunner Matthew Weiner has maintained that (with little exception) he's no longer interested in pursuing product placement or merchandising deals for the show, and a rep for General Mills confirmed as much, noting that the appearance of Bugles is "pure coincidence." The rep also chose not to comment on the weight-gain connection, instead referring us to a blog post on their website that details the long and storied history of Bugles.

We can't blame General Mills for being shy to acknowledge the less-than-flattering light in which their product has thus far been portrayed and for being more interested in focusing on the snack's fascinating history. Did you know that Bugles were the first snack item produced by General Mills after twelve years of research and development? Twelve years to make a bugle-shaped treat! Released alongside two other meta-named chips, Whistles and Daisy*s, the snack debuted in select U.S. markets in 1964, expanding nationwide by late summer 1966 (just weeks after the events of last week's episode, "Mystery Date"). One of the original Bugles ads sported the tagline "Suddenly … snacks are in great shape!" Unlike poor Betty, that is.

General Mills finds themselves in a good news/bad news bind. They are being featured on one of the coolest shows around. Fantastic! And on said show, they are being presented as the ideal snack for someone who has given up hope about ever getting back into fighting shape; they are the baggy sweatpants of the Mad Men set. Ouch! It is simultaneously an enticement for and warning against their hypnotically tempting saltiness. General Mills can only hope that next week Mad Men will compensate for this disconnect by having Sally eat Bugles the correct way: By joyously popping a chip on each finger and pretending to be a witch with scary fingernails. Then again, she may be doing so while cowering under the bed, hiding from Richard Speck. Again: mixed message.