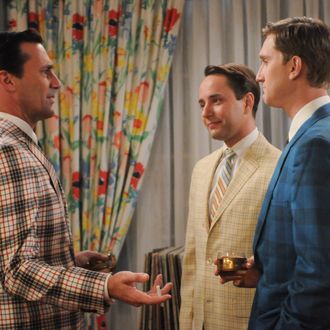 Photo: Michael Yarish/AMC
Last night's Mad Men ended with Beethoven's "Symphony No. 9" — sometimes colloquially known as "Ode to Joy." There wasn't a whole lot of joy on last night's episode, but the song was a perfect closer: It tied in with Pete's ostentatious hi-fi, which itself inspired Ken's story about the tiny orchestra, and it drove home just how sad and empty Pete and Roger feel.
But not all of Mad Men's closing cues have been quite so deft. (Not every single episode ends with a familiar song over the credits, but most do.) Last week's "He Hit Me (And If Felt Like a Kiss)" was a bit on the nose for the episode where Joan finally decides to leave her abuser, Don has a fever-dream about murdering his mistress, and everyone seems to be confusing fear with affection. We get it, Mad Men.
Occasionally the fade-out song starts with a character singing then segues to the official version, like in season two's "A Night to Remember," where Father Gill sings the Peter, Paul and Mary song "Early in the Morning," which then blends with the trio's version as they take over. More unusual is the switch to ambient noise: In season one's "Babylon," Don begrudgingly sits in a beatnik club and listens to "The Waters of Babylon," which sets the soundtrack for a haunting montage of everyone sadly ending their days. The credits, though, are over street noise, the tail end of the final scene of the episode, where Joan and Roger stand ten paces apart outside the hotel they've just left. It's as jolting a button as anything else, the ordinariness of the street sound, the irony of how un-special everyone suddenly feels while having labored to be so particular all episode.
Generally, though, the music that plays over the credits serves as a punchy and sometimes twisted button on the episode. "Tomorrowland" ends with "I Got You Babe" — maybe the least Don Draper-y song imaginable, and yet that's the kicker on his quest for a new life. In season two's "The Gold Violin," when Betty's denial over Don's philandering finally, finally cracks and Jimmy Barrett calls Don a piece of garbage, moments later we close out with "Break It To Me Gently." A few episodes later in "Six-Month Leave," shortly after Roger's first wife Mona confronts him (and Don) about his infidelity, we get "I'm Through with Love," sung by Marilyn Monroe, whose death was the through line of the episode. In season three's "The Gypsy and the Hobo," Betty discovers Don's secret past, and the episode closes with "Where is Love?" from Oliver!, a show about an orphan who — guess what — is searching for love, not unlike our own protagonist. (It's also perfectly timed: The episode is set during Halloween, 1963, not too long after the show opened on Broadway.)
The best credits cue of the series, though, comes from "The Chrysanthemum and the Sword" in season four. The episode is sort of about pitching Honda, but it's also about generation gaps, cultural appropriation, assimilation, racism, and an overall inability to be seen for who we really are. We see Peggy morosely ride a scooter in a circle. Sally cuts her hair and gets caught masturbating at her friend's house. Don is dating the ditzy Bethany and drags her to a Benihana. The episode ends with "I Enjoy Being a Girl," a perky tune from Flower Drum Song, a Rodgers and Hammerstein song about Chinese immigrants. There aren't any characters on Mad Men who particularly enjoy being a girl, and Flower Drum Song is probably one of the few touchstones Sally would have had for Asian-American culture — which is now, of course, incredibly dated in every way. The song not only pokes at everyone's self-loathing in this episode, but it also gives us a little more context.
This is what normal sounded like.