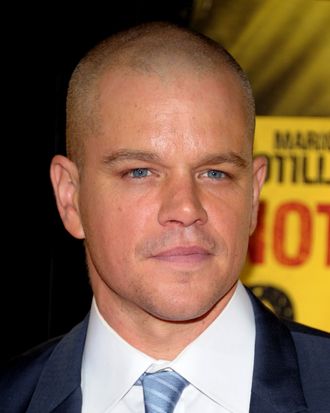 Actor Matt Damon attends the "Contagion" premiere at the Rose Theater, Jazz at Lincoln Center on September 7, 2011 in New York City.
Photo: Michael Loccisano/Getty Images
We've learned a bit about Matt Damon's next movie, The Promised Land — namely, that Damon was going to direct a script co-authored by John Krasinski and Dave Eggers until he stepped down and asked Gus Van Sant to helm it instead — but there have been precious few details about the story, other than the tidbit that Damon will play a salesman whose life changes upon his arrival in a small town. Now, perhaps we've learned the reason that Damon and company have kept things so close to the vest: Politico reports that the movie's plot is about the dangers of fracking, the controversial method of blasting rocks with sand, water, and chemicals to extract natural gas. We're guessing that vocal anti-fracking activist Mark Ruffalo, yet uncast in the movie, must have had some scheduling conflicts?