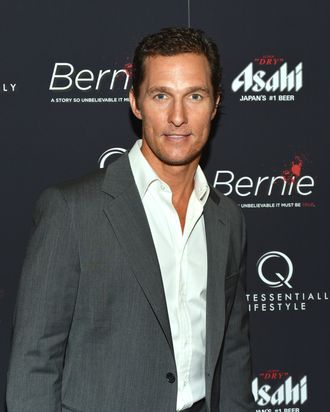 Matthew McConaughey.
Photo: Slaven Vlasic/Getty Images
With Steven Soderbergh's male stripper epic Magic Mike coming in just a few months, we're hearing a lot of buzz about Matthew McConaughey's supporting performance as the club owner who employs Channing Tatum and the rest of the cast of male hardbodies. Last night at the premiere of his new film Bernie, we asked McConaughey to tell us a little bit more about his character, and the talk soon turned to his wardrobe. Specifically, would McConaughey like to address the tip Vulture recently received that he spends several scenes of the movie in assless chaps? "You got to go check it out in a theater and find out, man," he laughed, admitting, "I did design some special pants." As far as additional research went, "Channing and I met early on and went by one male revue strip club in New Orleans and I was there for about an hour, and that was enough," McConaughey said. "For me, that character in Magic Mike was a combination of Clockwork Orange and Jim Morrison. So I'll leave it at that." A droog crossed with the Lizard King? Color us intrigued.