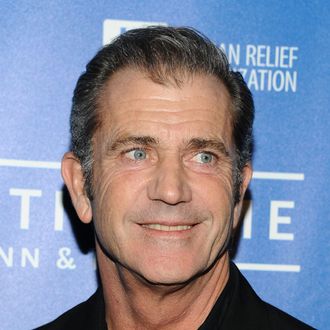 Mel Gibson.
Photo: Angela Weiss/2012 Getty Images
Buckle up: It's happening again. Remember that Jewish hero movie Mel Gibson planned to make about Judah Maccabee? The one that prompted the head of the Simon Wiesenthal Center Museum of Tolerance to say, "Casting [Gibson] as a director or perhaps as the star of Judah Maccabee is like casting Madoff to be the head of the Securities and Exchange Commission, or a white supremacist as trying to portray Martin Luther King Jr"? The one that was going to be scripted by Joe Eszterhas, writer of Basic Instinct and Showgirls, because of course? Well, it seems that Eszterhas turned in his draft back in February and never heard back from Gibson, and as a result, he has blasted the actor-director in a letter that's full of damaging allegations. (Yes, even more damaging allegations.)
"I've come to the conclusion that the reason you won't make The Maccabees is the ugliest possible one. You hate Jews," Eszterhas wrote to Gibson in the letter, which was obtained by The Wrap. Alleging that Gibson only announced the project in an effort to rehabilitate his anti-Semitic reputation, Eszterhas went on to recount several examples of "wild, crazed, and explosive" behavior from Gibson. 
"You continually called Jews 'Hebes' and 'oven-dodgers' and 'Jewboys,'" wrote Eszterhas. "It seemed that most times when we discussed someone, you asked 'He's a Hebe, isn't he?' You said most 'gatekeepers' of American companies were 'Hebes' who 'controlled their bosses.'"
Added the writer, "You said the Holocaust was 'mostly a lot of horseshit.' You said the Torah made reference to the sacrifice of Christian babies and infants. When I told you that you were confusing the Torah with The Protocols of the Elders of Zion, … you insisted 'it's in the Torah — it's in there!' (It isn't)."
Among Eszterhas's other allegations: Gibson was plotting with two FBI agent friends to murder his ex-girlfriend, Oksana Gregorieva, and his only intention in making The Maccabees was to "convert the Jews to Christianity."
Well, you're definitely going to get those script notes now, Joe.
UPDATE: Right on cue, Gibson has responded to Joe via the Gibson-friendly site Deadline:
Joe,

I have your letter. I am not going to respond to it line by line, but I will say that the great majority of the facts as well as the statements and actions attributed to me in your letter are utter fabrications. I would have thought that a man of principle, as you purport to be, would have withdrawn from the project regardless of the money if you truly believed me to be the person you describe in your letter. I guess you only had a problem with me after Warner Brothers rejected your script.

I will acknowledge like most creative people I am passionate and intense. I was very frustrated that when you arrived at my home at the expense of both Warner Brothers and myself you hadn't written a single word of a script or even an outline after 15 months of research, meetings, discussions and the outpouring of my heartfelt vision for this story. I did react more strongly than I should have. I promptly sent you a written apology, the colorful words of which you apparently now find offensive. Let me now clearly apologize to you and your family in the simplest of terms. […]

Honestly, Joe, not only was the script delivered later than you promised, both Warner Brothers and I were extraordinarily disappointed with the draft. In 25 years of script development I have never seen a more substandard first draft or a more significant waste of time. The decision not to proceed with you was based on the quality of your script, not on any other factor.