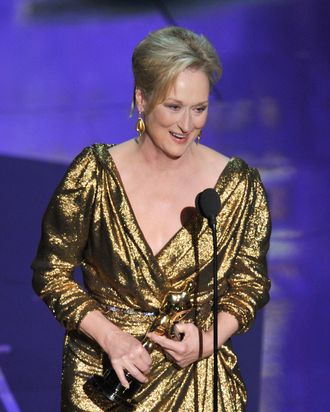 Actress Meryl Streep accepts the Best Actress Award for 'The Iron Lady' onstage during the 84th Annual Academy Awards held at the Hollywood & Highland Center on February 26, 2012 in Hollywood, California.
Photo: Kevin Winter/Getty Images
Meryl Streep can play many things, but can she pull off a virginal teenager in the throes of first love? Well, who wouldn't want to see her try? The Public Theater announced today that to celebrate the 50th anniversary of its Shakespeare in the Park series, Streep and Kevin Kline will play the world's most famous star-crossed lovers in a live reading of Romeo and Juliet, staged for one night only on June 18. How much for a ticket to this unique event? Let's see here … it says they start at $1500. That can't be right, can it? Somebody fetch our glasses.