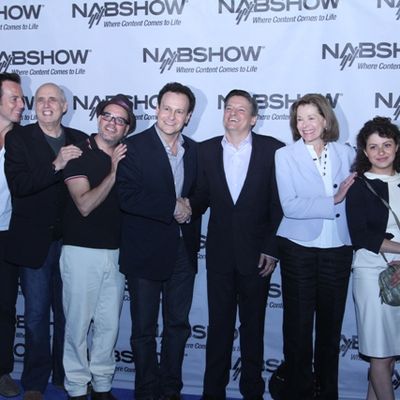 Photo: National Association of Broadcasters/National Association of Broadcasters
Doubters to the left: The Arrested Development reunion took another step toward reality on Tuesday when creator Mitch Hurwitz and several members of the cast appeared onstage together at a Netflix-sponsored event in Las Vegas (video now available here). Speaking on the floor of the National Association of Broadcasters convention, Netflix chief Ted Sarandos confirmed that all ten episodes of Arrested's long-awaited fourth season will premiere together on a single day sometime next year. Hurwitz also confirmed that production is set to begin this summer, but he also dropped a new nugget of information about what form the Arrested revival will take.
Originally, Hurwitz's plan had been to make the revival like an anthology, with each episode telling a somewhat self-contained story about a specific character. "That is now kind of evolving into becoming more like the old show again," Hurwitz told a packed house of conventioneers, who politely applauded the introduction of other Netflix offerings (such as David Fincher and Kevin Spacey's House of Cards), but exploded at the mention of Arrested and the arrival of cast members Will Arnett, David Cross, Alia Shawkat, Jeffrey Tambor, and Jessica Walter. The reason for the change: Hurwitz sees a chance to tweak the show's format to take advantage of the fact that the full ten-episode season will debut at once, rather than over two-and-a-half months. "There's something exciting about trying to break the form again," he said.
While Hurwitz didn't elaborate on just how he'll do this, he indicated it might be related to the way the writers deliver red herrings and other surprises to viewers (think back to season one, when Jason Bateman's girlfriend turned out to not be blind). "There's going to be some mystery sprinkled throughout this [but] instead of watching one a week and try to get ahead of it, the hope is [fans] will watch them all together and then go back and look for clues and connections," Hurwitz explained. "We'd also like to use the technology to provide additional material, where you might be able to access another part of the story." As for the fact that any big end-of-season twists will likely be floating around the interwebs within a few hours of the show's Netflix debut, Hurwitz doesn't seem too concerned, noting that movies (such as The Cabin in the Woods) have successfully battled a similar situation. Plus, he said, "It's comedy. The twists really aren't as important as the characters."
Hurwitz and the cast made no mention onstage of the rumored Arrested Development movie that's been expected to follow the TV revival. He did, however, say he'd very much be open to a season five or six on Netflix. "We would love this to be the first first of many visits," Hurwitz said. He also confirmed that Showtime, currently run by former Arrested exec producer David Nevins, had been in serious talks to acquire the show, but that ultimately Netflix offered a more interesting business model, as well as a base of already-loyal Arrested viewers. "The show's audience has grown over the last six years because of [viewers streaming it]," Hurwitz said. "It's been like putting jokes in a bottle and then having them come back years later to say, 'Ha ha.'"
A few other random notes from Tuesday's Netflix and Arrested session:
• Bob Loblaw will return. "We will bring him back," Hurwitz told Vulture when we asked a question from the studio audience. (Per Netflix's insistence, Hurwitz wasn't doing one-on-one chats). "It's kind of a one-joke thing. But if you guys don't mind bringing it back, we'll give it to you." (For the record, the audience reacted with strong applause to the idea of a Loblaw appearance in season four).
• Hurwitz mildly embarrassed Shawkat by reminding her that Cera was her first-ever kiss. "I've kissed a lot of people since then," Shawkat jokingly shot back.
• Sarandos dropped some data on how well Mad Men does on Netflix, saying 3.5 million subscribers had watched the fourth season of the show since it went up on the service, and that 800,000 viewers watched all three seasons. What's more, this Monday, the most-streamed episode of Mad Men was actually the show's pilot, perhaps indicating some folks have decided to start catching up on the series. "We believe we found an untapped audience of the show," he said, taking partial credit for Mad Men's 20 percent ratings jump at the start of the current season.
• Sarandos said Netflix's first original series, Lilyhammer, will return for a second season. He still didn't say how many people have streamed the show.