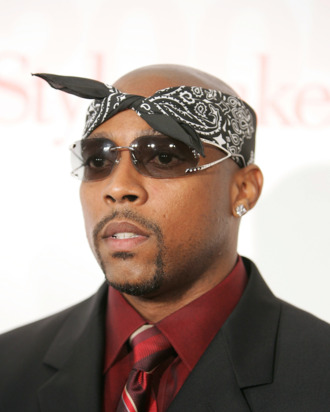 Musician Nate Dogg arrives at Life & Style Magazine's Stylemakers 2005, a runway show and charity auction held at Montmartre Lounge on May 26, 2005 in Hollywood, California.
Photo: Frazer Harrison/Getty Images
Here is a sentence that you probably did not expect to read until at least 2020, if ever: A hologram of deceased singer Nate Dogg will be performing on stage during Snoop Dogg and Dr. Dre's Coachella set. Take it away, TMZ: "Sources tell us, Dr. Dre didn't want to leave Nate out of his Sunday performance — so he's incorporating his old friend using hologram technology … According to sources, Nate will perform several songs." L.A.'s KRQQ is also reporting that a Tupac hologram will make an appearance, because if you have the means, why not get the whole crew back together, we guess.  Live humans Eminem, Wiz Khalifa, and Warren G (naturally) are also rumored for the set. The future is a remarkable place to live!