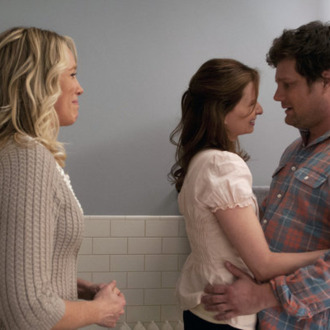 BEST FRIENDS FOREVER – "Pilot" Episode 101 – Pictured: (l-r) Jessica St. Clair as Jessica, Lennon Parham as Lennon, Luka Jones as Joe – (Photo by: Neil Jacobs/NBC)
Photo: Neil Jacobs/NBCUniversal, Inc.
BFF is about to go MIA. The quirky NBC comedy Best Friends Forever has been pulled from the schedule, effective immediately, according to co-creator and star Lennon Parham. "Our show is being taken off the air until the summer," she tweeted. "Hoping to post ep 5 & 6 online asap." Except for Smash, NBC hasn't had much luck with its midseason replacements this year: The Firm flamed out early, Awake is struggling, and the network double-pumped and under-promoted its well-liked sitcom Bent.