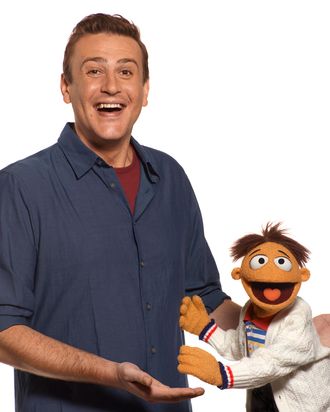 Jason Segel and Walter.
Photo: Andrew Macpherson/Disney
Jason Segel's character Gary won't return for the sequel to The Muppets, but what of Walter, the new Muppet that Segel and co-writer Nicholas Stoller invented for the movie? "Walter is coming back," Stoller reassured us last night at the premiere of his new movie The Five-Year Engagement. "Come on, you saw the first one, right? The arc of the story was, 'Am I a man or a Muppet?' Gary chose 'I am a man.' So if you were making something called The Mannets, Gary would be in that. Walter chose to be a Muppet. He realized he's a Muppet." But will Walter be shuffled into the Muppets' deep bench, or will he be a plot driver in the sequel? "He is not making a cameo," said Stoller. "He is heavily involved in the story." Still, Muppet purists shouldn't fret about the focus: "It's in the early stages, so everything could change, but right now it's a Kermit-centric story, as a lot of the original movies were." Hi ho!