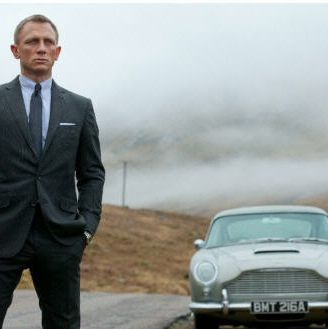 We've gathered a smattering of items about the next James Bond jaunt, Skyfall: It's British director Sam Mendes's first movie filmed in England; Bond is scruffy; the new Bond girls are predictably attractive; Javier Bardem's villain is blond (or is he?!); the film is said to have some of that "magical Goldfinger feel" and echo Bond's sixties era. Those assorted info-bursts aside, particulars on Skyfall have been relatively scant, until Slashfilm published a detailed set visit on Monday.
About That Title
Much of Slashfilm's set visit revolved around witnessing one big set piece, giving reporter Russ Fischer the vibe that the title is "close to literal in one sense. In the culmination of a chase scene through and beneath London, the villain Silva, played by Javier Bardem, causes an explosion in a catacomb chamber underneath a London tube station, and a train comes crashing down on Bond's head." So Skyfall … is about the sky … falling.
Bardem Might Not Be So Blond After All
He's "not sporting dyed blond hair for the whole shoot, leading to the supposition that his character disguise includes a wig." Quizzed on this, Bardem's coy response was, "Oh, you noticed that, did you?'" What?! We can't go back to the drawing board on speculating about Silva's evilness as evidenced by blondness. We just can't.
Sam Mendes Makes Sense as Director
Though a bit vague and not necessarily something you couldn't glean from familiarity with Mendes's oeuvre, special effects supervisor Chris Corbould told Slashfilm: "He comes from a very theatrical, character-based story background, which has worked really well from my point of view. He has taken it from an out-and-out sheer action movie to an action thriller with big characters. To me that's very important, that the storyline and characters are involved in the action … Because Sam hasn't got a history with action films he thinks outside the box." Like we said, nothing groundbreaking, but good to hear the Craig-as-Bond renaissance is in capable hands, interested in pushing the series' boundaries.
This Could Be Daniel Craig's Most England-Centric Bond Yet
The Skyfall-name-giving set piece is set in London's subway; the plot centers around Judi Dench's M and "an element from that past that threatens to disrupt MI6 and everything M has built." Part of the inferred Anglo-centricity may come solely through the nature of Slashfilm's set visit to England, and the story definitely ventures (in the story or in the actual filming) to Macau, India, Turkey, and the Japanese island of Hashima, but it sounds very English.