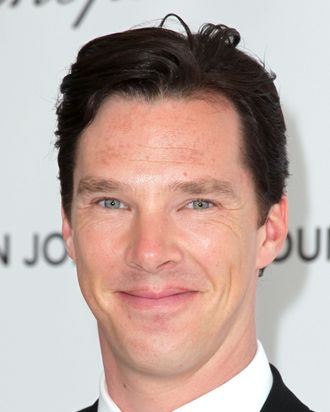 Actor Benedict Cumberbatch arrives at the 20th Annual Elton John AIDS Foundation's Oscar Viewing Party held at West Hollywood Park on February 26, 2012 in West Hollywood, California.
Photo: Frederick M. Brown/Getty Images
Sherlock and Star Trek 2 star Benedict Cumberbatch gets a close-up in the New York Times this weekend, and while the profile does not investigate the British actor's possible aquatic ancestry, as we might have hoped, it does allow him the opportunity to opine on Downton Abbey's uneven second season. He wasn't exactly a fan. Recounting a run-in with Downton and Masterpiece producer Rebecca Eaton, who waved the show's Golden Globe award at him jokingly, he told the Times: "I just looked at it and went: 'Begone, woman. Bring it back when it says "Sherlock Holmes" or Steven Moffat or myself — someone else who's more deserving than the second series of "Downton Abbey."'" When pressed further, he would only add, "I know too many people who are in it. I thought the first series was good. That's what I'll say." Not a great week for poor Downton.