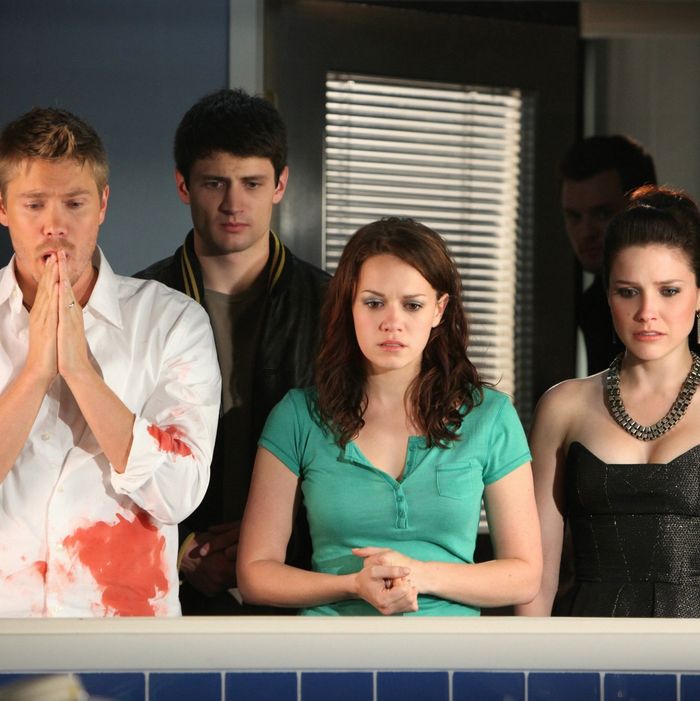 One Tree Hill finishes its ninth and final season tonight with an even 186 episodes. It's astonishing how long this show has been on.
When One Tree Hill premiered, American armed forces had been in Iraq for six months. MySpace was one month old. The DaVinci Code was still only in hardback. Elliott Smith, Ronald Reagan, George Harrison, Johnny Carson, Julia Child, Hunter S. Thompson, Rosa Parks, and Betty Friedan were alive. Britney Spears had never been married. Kanye West had not released an album, Pluto was still a planet, and Friends was still on. Miranda and Steve weren't married yet on Sex and the City.
These shows have come and gone during OTH's run: Nip/Tuck, Arrested Development, Joan of Arcadia, Deadwood, Dead Like Me, Pimp My Ride, Best Week Ever, Rescue Me, Heroes Lost, Ugly Betty, and Battlestar Galactica.
OTH has been on longer than Dancing With the Stars, Mythbusters, Dirty Jobs, and The Late Late Show With Craig Ferguson.
Since OTH's premiere, we have had two summer and two winter Olympics. The Red Sox have won two World Series. The Yankees have won one. Arnold Schwarzenegger's entire governorship was shorter than One Tree Hill's run. The Supreme Court ruled it unconstitutional to execute people for crimes committed while they were minors.
One Tree Hill is older than Facebook, and iPhones, and Suri Cruise.
The end of an era, kids.