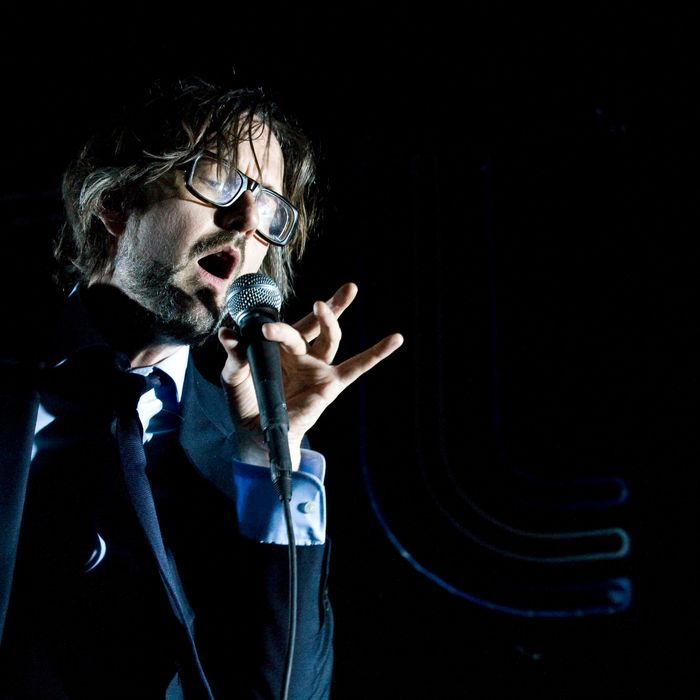 Photo: Wendy Redfern/Getty Images
The best revival in midtown, which held its first performance last night and will conclude with its second tonight, commands a level of both talent and lyric-geek fandom for which Andrew Lloyd Webber would kill any number of kitty cats. It's the first half of the U.S. reunion tour of Pulp, inarguably the best practitioners of what came to be known in the nineties as Britpop, starring the astonishingly limber 48-year-old frontman Jarvis Cocker. The venue, Radio City Music Hall, may have stifled the floppy dancing of mop-topped devotees, but it served only to play up Cocker's fourth-wall-obliterating theatricality, the band's snap timing, some of the best lyrics this side of Sondheim, and an aesthetic Cocker himself keenly summarized, with his Yorkshire inflection, as "our slightly shady form of glamour."
It was wise to start off with "Do You Remember the First Time," off Pulp's early album His n Hers. It's not only a rousing anthem (half of their disco-inflected, highly dynamic songs are rousing anthems) but also a nice lead-in to Cocker's savvy banter. "Do you remember the last time," he asked  — the last time Pulp played in New York? It was 1998, fourteen years ago. "So what you been doin'," he teased. Then came "Misshapes," from the album Different Class — by far Pulp's most popular album (and yes, the one with "Common People" and "Disco 2000," both expertly executed last night). In a just world, it would have been the theme song to season five of Freaks and Geeks U.K.
Fourteen years might be expected to yield rust and discord, but they had quite the opposite effect onstage. Perhaps, like Jon Stewart after a three-week vacation, they just had a really good rest and a lot of pent-up energy. The band and the music were almost too tight. They didn't leave room for much riffing or reeling. It didn't help that the one thing Cocker, sporting a skinny tie and a salt-and-pepper goatee, seems to have lost is his famous cat-like falsetto.
He made up for it tenfold, though, in physical energy — and often exactly where it was needed. On "This is Hardcore," the title song off Pulp's most sinister album, Cocker's theatrics turned a tale that reads on the page like cyberpunk Theodore Dreiser into a comic burlesque show. He climbed up into the side balconies, mic-cord-handling roadie trailing frantically behind him, as he vamped under a red spotlight, then ran down and sinuously pantomimed the act described in the song's climax ("Oh, that goes in there, then that goes in there, then that goes in there, then that goes in there, and then it's over … ").
Throwing mini–Milky Ways out into the crowd, Cocker challenged himself to aim for the balconies; his miserable failure only underlined his obvious upper-body deficiencies. But never has gawkiness — to say nothing of a common Cocker move known in baboon zoology as "presenting" — seemed more plausibly macho. No wonder there's a Facebook group called "Straight Men Who Would Go Gay for Jarvis Cocker." (Sorry, men: He was married to a woman and has two kids*.)
It seems unfair to quibble that there were too few late and early Pulp songs — especially from This Is Hardcore, the follow-up to Different Class that richly rewards repeated listening — and too many B-plus entries from the latter album. It was reassuring to see a band celebrated for its cynicism about the pop machine suddenly seem so eager to please. Onstage, at least, they looked like they wanted to share — to a point. Cocker told a song backstory that seemed to reveal he had a childhood crush on his sister, cultivated by watching her and her boyfriend through a closet door. But then he reminded us that artists make shit up, and they'll never tell you how much of it is an act. "A good magician," he said, "never reveals his tricks." Then he was off leaping to another number.
*The original version of this post said that Jarvis Cocker is married. He's divorced.