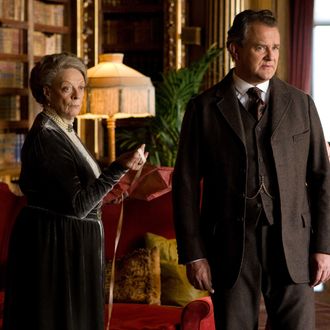 Forbes' annual "Fictional 15" rattles off the year's richest fictional characters, and this year's notables control a combined wealth of $209.5 billion. Topping this year's list is the familiar wealth-hoarder Smaug, the dragon from The Hobbit, who moved up thanks to Forbes' more accurate analysis of his size; since he sleeps on a mound of treasure, this meant that the fictional mound is also larger, which puts his net worth at $62 billion. Twilight's Carlisle Cullen ranked third, with $36.3 billion (wise investments), and Tony Stark and Bruce Wayne, with $9.3 billion and $6.9 billion respectively, are nothing to sneeze at.
But they've all made the list before. This year's newly rich — is there anything gaudier?! — include Lisbeth Salander, who earned her $2.4 billion through hacking; Downton Abbey's Lord Robert Crawley ($1.1 billion), who made his fortune by being born and getting married; and Game of Thrones' Tywin Lannister, who with $2.1 billion can always afford to pay his debts.
Notably absent this year? Chuck Bass, whom Forbes says "has been reduced to a common salaryman after losing control of Bass Industries." You are the 99 percent, Chuckles.