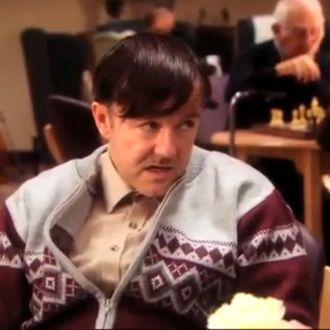 Ricky Gervais's upcoming show Derek is taking some flak for its portrayal of people with intellectual disabilities. On the show, Gervais plays the titular character, a man who works in a nursing home. Gervais denies that the character has any specific kind of disability. Take a look:
"Derek is a fictional character and is defined by his creator. Me," Gervais told U.K. rights advocate Nicky Clark, who previously took Gervais to task for his use of the word mong. "If I say I don't mean him to be disabled then that's it. A fictional doctor can't come along and prove me wrong." Derek is "different," Gervais admits, "But then so are a lot of people."
That seems awfully disingenuous, though, and Gervais is not known for his thoughtful, compassionate storytelling about adults with a range of cognitive abilities: There's a detached cruelty to An Idiot Abroad, and no matter how much Gervais insists that he and Karl Pilkington are pals, it's pretty clear that Pilkington isn't in on the joke. The whole mong debacle last year painted Gervais as either willfully ignorant or inexplicably nasty.
And yet. There's a difference between portraying someone with a disability and ridiculing them, and according to Clark, Derek is actually a deeply felt, kind show. "Instead of it being a mocking disintegration of a learning-disabled man[,] paraded for the amusement of comfortable unaffected people, it's the story that really needs to be told at the moment," she writes.
"If [Derek] had any specific and defined disability I would either get an actor with that disability to play the role or I would make sure I was an expert in that disability and the best person for the job," Gervais explained to Clark. "There are of course times when it is necessary for an able bodied actor to play a disabled role," he said. "Born on the 4th of July for example needed an actor to play both a disabled character and an able bodied character. It was naturally easier for Tom Cruise to sit in a wheelchair for half the movie than for a paraplegic to run around for half the movie."
Derek premieres in the U.K. this week, but doesn't have a U.S. release date yet.