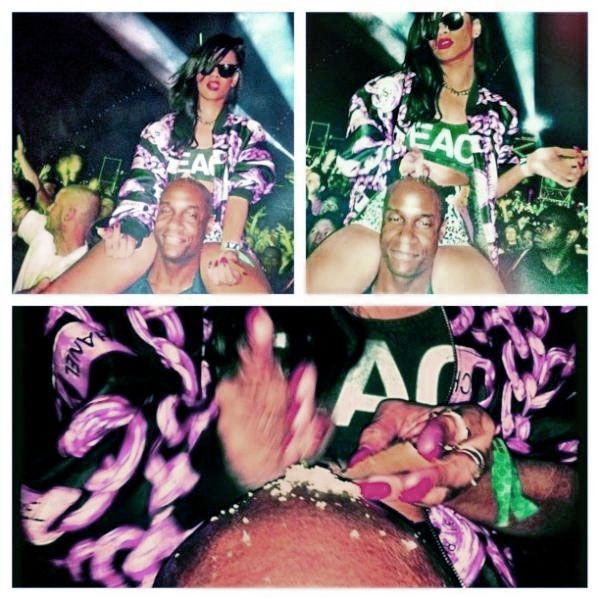 It has been a big week for celebrities getting in trouble on Instagram, the photo app recently acquired by Facebook for a cool(er) $1 billion. First, fashion "It" girl Alexa Chung came under fire for a picture she took with her mom; commenters went wild, calling her "unhealthy" and accusing her of "thinspiration." Then, as you may have heard, Rihanna uploaded a photo from Coachella in which she could be seen doing some sort of illegal substance off the top of a partially bald man's head. Her followers went nuts.
Chung has been criticized for her weight before, and Rihanna has been publicly reprimanded for just about everything — including multiple photos of her smoking weed — but this time, both women decided to respond directly to their haters. Before making her account private, Chung posted a message to her Instagram followers letting them know she "can read." Rihanna, meanwhile, tweeted one of her standard "I'm just doing me" non-apologies before responding to MTV with an undeniably awesome call-out: "@MTV…Yikes…@rihanna ran out of fucks to give." Now there's a small controversy about Rihanna's response to the response to her own photo.
Wherever there are celebrities oversharing on social media, there will also always be shaming (think Courtney Love's Twitter, Miley Cyrus's OWS YouTube video, or Kanye West's cherub imagery). And though most famous people have learned — or been taught — not to engage their critics, you do get the occasional crisis tweet (see: Miley again, in response to her weight criticism) or total breakdown (see: Nickelback, in response to being hated by everyone). Still, these Instagram bust-ups are notably personal exchanges — a celebrity chooses to post something from her life, and then countless fans scold her directly, right there on the photo, just as if they were (mean) Facebook friends. And now the celebrities are firing right back. It's kind of refreshing, actually, to watch very famous people be willing to act silly and then actively defend their right to act silly, just like the rest of us would. We also assume that the public, unedited celebrity Instagram fad is not long for this world. But in the meantime, we are very much looking forward to the song Taylor Swift writes in response to all the comments about her cat.