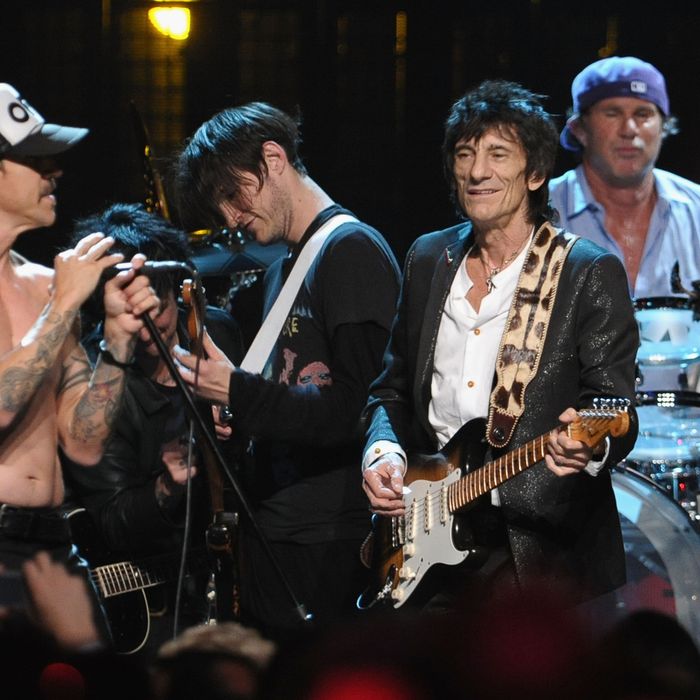 Photo: Michael Loccisano/2012 Getty Images
Before a crowd of 6,000 rock-loving fans in Cleveland last night, some of the biggest names in music from the sixties, seventies, and eighties were officially inducted into the Rock and Roll Hall of Fame. Here a quick rundown of who got in, who did the honors, and the jams served up.
Honoree: Guns N' Roses
Notable Absences: It was the first time most of the band's members — guitarist Slash, bassist Duff McKagan, drummer Steve Adler — had all gotten together in some twenty years, but lead vocalist Axl Rose stayed away, saying the ceremony "doesn't appear to be somewhere I'm actually wanted or respected."
Inducted by: Green Day's Billie Joe Armstrong, who recalled his first time seeing the band on MTV: "I thought, these guys could end up dead or in jail."
Tunes: "Sweet Child of Mine" and "Paradise City," performed by what parts of Guns N' Roses were in attendance.
Honoree: The Beastie Boys, now the third-ever hip-hop act inducted into the Rock and Roll Hall of Fame.
Notable Absences: Michael "Mike D" Diamond and Adam "Ad-Rock" Horovitz were in attendance, but sadly, Adam "MCA" Yauch, struggling with cancer, couldn't make it.
Inducted by: LL Cool J and Public Enemy's Chuck D, who called the band "one of the greatest live acts in music."
Tunes: "No Sleep 'Til Brooklyn" and "Sabotage," performed by Kid Rock and the Roots.
Honoree: The Red Hot Chili Peppers, who took a break from touring to accept the award, prompting lead singer Anthony Kiedis to wonder, "How can we stop and take an award when really we're just halfway there? But it is nice to be together with people that we spent some incredible years along the way writing songs and playing shows in little theaters and sweaty little transvestite clubs and having the time of our lives."
Inducted by: Chris Rock, who aptly described the band thus: "If [Beach Boy] Brian Wilson and [funkmaster] George Clinton had a kid he would be ugly. But he would sound like the Red Hot Chili Peppers."
Tunes: "By the Way," performed by the band.
Honoree: Small Faces, and Faces
Notable absences: Rod Stewart, who was battling a cold.
Inducted by: Stevie Van Zandt, of Bruce Springsteen's E Street Band.
Tunes: "Stay With Me" played by Simply Red's Mick Hucknall and Ronnie Wood who, before joining the Rolling Stones, was a member of Faces along with Stewart. (Wood is now a two-time Hall of Fame inductee.)
Honoree: Donovan, or as he's often been dubbed, "the new Dylan"
Inducted by: Hall of Fame inductee John Mellencamp, who called Donovan one of his chief inspirations and held up a copy of the folk singer's sophomore album Fairy Tale, which a seventh-grade Mellencamp bought, back in Indiana, some 47 years ago.
Other Honorees: Singer-songwriter Laura Nyro (deceased) inducted by Bette Midler; rock promoter Don Kirshner inducted by Carole King; Buddy Holly's The Crickets, James Brown's The Famous Flames, and Bill Hailey's The Comets, and Smokey Robinson's The Miracles inducted by Smokey Robinson himself.