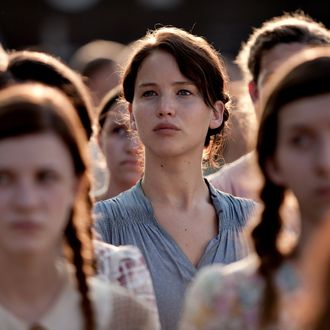 Jennifer Lawrence stars as 'Katniss Everdeen' in THE HUNGER GAMES.
Photo: Murray Close/Lionsgate Films
And now it's time for a novelty Pop Culture Real Estate Break. What is on the market today? Panem's very own District 12! Yes, Henry River Mill Village, the abandoned North Carolina mill town where The Hunger Games movie filmed its sepia-toned District scenes, is now available for purchase. The current owner, 83-year-old Wade Shepherd, is overwhelmed by the number of Hunger Games tourists now flooding the town, and so he's cashing out. And he's only asking $1.4 million! We're not real-estate experts or property owners of any kind, really, but that still seems like a pretty good deal for 72 acres and a cluster of very famous rundown buildings. Think of the zooted-out Hunger Games warehouse parties you could have.