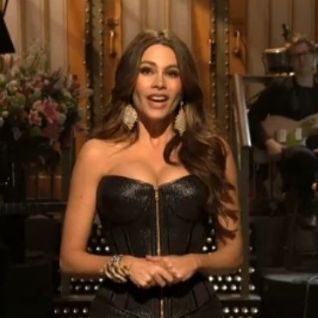 Sofia Vergara is kind of an unexpected choice to host SNL, what with her lack of experience performing live and her extremely thick Colombian accent. Fans, therefore, may not have had high expectations for her first-time appearance on the show last night, but Vergara actually acquitted herself pretty well, all things considered. For the most part, the elements that went wrong in the episode weren't her fault. Here are the highs and lows.
Best Recurring Character:
Today is Easter, traditionally a holiday when families get together, so you know what that means: time to get ready to spend some time with your drunk uncle. SNL's stopped by last night to share his views on, among other topics, Netflix and immigrants.
Best Celebrity Impression:
Rumor has it that longtime SNL stalwarts Andy Samberg, Jason Sudeikis, and Kristen Wiig are preparing to leave the show at the end of that season. Sketches like last night's Watch What Happens Live parody, featuring Taran Killam's note-perfect Andy Cohen, gives one hope that the show will be fine without them.
Best Commercial Parody:
Almost Pizza is a pizzalike product that a mom may serve to her family without necessarily eating any herself. But, you may ask, if not pizza, what is it? Great question! (Look out for the DiGiorno logo on the back of the "prop" box; the company's got to be thrilled about that.)
Worst Political Satire:
The endless Republican primary is spinning off insanity on a daily basis and the best that the producers can come up with to mock is the "Mitt Romney is phony" meme? No wonder Sudeikis is ready to leave.
Worst Use of Fred Armisen:
God bless him, Fred Armisen does what he can to salvage this sketch about a local news team shooting a promo, and the traffic guy's inability to follow simple instructions. But given how endless it was, one might have hoped at least that the payoff — our first look at the finished promo — would deliver a heightened version of what we'd just patiently spent what felt like fifteen minutes watching. Not so.
Worst Recurring Character:
Gillyyyyyyyyyyyyy!
PS: As I had predicted, the show could not resist inserting Vergara in The Manuel Ortiz Show — and they ran it right after Weekend Update, also as I had foretold. This one benefits from a pretty funny surprise cameo at the end.
And since I had also predicted a sketch involving Penélope Cruz, and one involving The Hunger Games, I am taking partial credit for both of the sketches below.