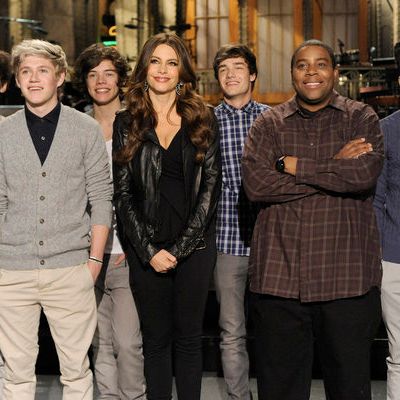 Modern Family star Sofia Vergara may be more comfortable performing in English than she was when she required help from a dialect coach. But that accent is still a factor that producers of Saturday Night Live will have had to take into account when coming up with sketches for her hosting debut tomorrow night. This is not a lady who can credibly play, let's say, Kay Bailey Hutchison. But surely there are other ways in which her talents can be put to work, as suggested below:
11:29 p.m. Cold Open: Sarah Palin (cameo by Tina Fey) extends her Today guest appearance into the fourth hour with Kathie Lee (Kristen Wiig) and Hoda (Nasim Pedrad).
11:35 p.m. Monologue: Host Sofia Vergara is interrupted by characters from her forthcoming movie, The Three Stooges: Larry (Fred Armisen), Curly (Bobby Moynihan), and Moe (Bill Hader).
11:44 p.m. On an episode of the classic game show Secret Word, frequent guest Mindy Gracin (Wiig) is joined by flamboyant South American showgirl Estrella (Vergara).
11:49 p.m. Digital Short: Keith Olbermann (Taran Killam) tries, and gets fired from, a series of increasingly menial jobs.
11:56 p.m. Woody Allen (Armisen) has a hard time staying on task while directing the beautiful Penélope Cruz (Vergara) in To Rome With Love.
12:05 a.m. One Direction performs.
12:12 a.m. Weekend Update features Kanye West and Kim Kardashian (Jay Pharoah and Pedrad) defending the legitimacy of their new relationship; one of the Mega Millions jackpot winners (Vanessa Bayer) sharing some of the absurd ideas she has for spending her millions; and a surprisingly lucid Charles Manson (Armisen) trying to put a good spin on his appearance in a recent photo.
12:29 a.m. The Manuel Ortiz Show delves into the pain of a family torn asunder by a home-wrecking temptress (Vergara) — but still finds time for intense salsa dancing by each of the episode's guests!
12:38 a.m. The producers of the next installment in the Hunger Games series discover that they're filming in the same forest as Game of Thrones; chaos ensues.
12:46 a.m. One Direction performs.
12:53 a.m. Sofia Vergara (as herself) takes a private phone call in her dressing room, where we learn that, when she's on her own, she talks less like a Colombian bombshell and more like a New Jersey stevedore (voice of Moynihan).
1 a.m. Good night!