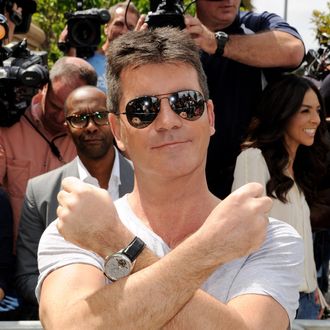 The X Factor
all the way. (Kevin Winter/Getty Images)
Photo: Kevin Winter/2011 Getty Images
British journalist Tom Bower, who has previously written about Prime Minister Tony Blair and ex-Harrods owner Mohammad al-Fayed, will soon release his version of the Simon Cowell story in the form of his latest biography, Sweet Revenge. Here, a few choice details provided by the Associated Press, starting with the weirdest one: 
Cowell's toilet paper color of choice: Black
Why he's such a fan of colonic irrigation: "It's so cleansing — and it makes my eyes shine brighter."
How much Cowell is reportedly worth: $320 million
Shows that earned him his fortune: American Idol, The X Factor, Britain's Got Talent, America's Got Talent, Australia's Got Talent, you get the drift
Number of years of "humiliation" Cowell lived through, per Bower, before breaking out: twenty
Locations where Bower interviewed Cowell: His private jet, 12,000-square-foot mansion in Beverly Hills, and yacht (in the south of France and the Caribbean).
Cowell clarifying the extent of his participation: "This book is not written by me. It is unauthorized. The writer is Tom Bower."
How much Cowell pays his publicist to keep stories out of the press: "Hundreds of thousands," reports the AP.
Cowell's publicist's take on the book: "For Simon, who has protected his privacy and never, ever spoken about his relationships with anybody, to suddenly be quoted about this, that and the other is to me very damaging."
The damage, if any, remains unclear. So far, Britain's Sun tabloid has taken to running some headline-grabbing scoops from the book, including Cowell's not-so-friendly nickname for ex-Spice Girls manager Simon Fuller, who Cowell says screwed him out of his due credit on Pop Idol and American Idol.