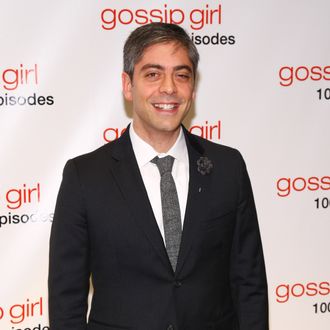 Photo: Neilson Barnard/2011 Getty Images
Gossip Girl executive producer and showrunner Josh Safran is leaving one struggling New York–based soap for another. Vulture has confirmed that Safran is finalizing a deal to take over as head honcho of NBC's Smash when the musical sudser begins production on its second season later this spring. (You'll recall that the position has been open since last month, when word leaked that creator Theresa Rebeck was giving up her showrunner status). The news comes as Gossip Girl has seen its already-low ratings collapse to sub-cable levels: Monday's episode was watched by just 1 million viewers (though lucrative licensing deals with Netflix and Hulu mean Gossip will be back for at least part of next season).
Smash, meanwhile,  has been doing steady, decent ratings but seen early critical support turn into scorn, with complaints about numerous WTF story lines. Rebeck's exit last month was a clear signal that NBC brass knew the show needed a new creative architect. It's now up to Safran, who hails from an even lower-rated show, which has also lost a big chunk of its pop cultural potency, to make sure NBC's promising musical drama doesn't turn into Smash: Turn Off the Dark.