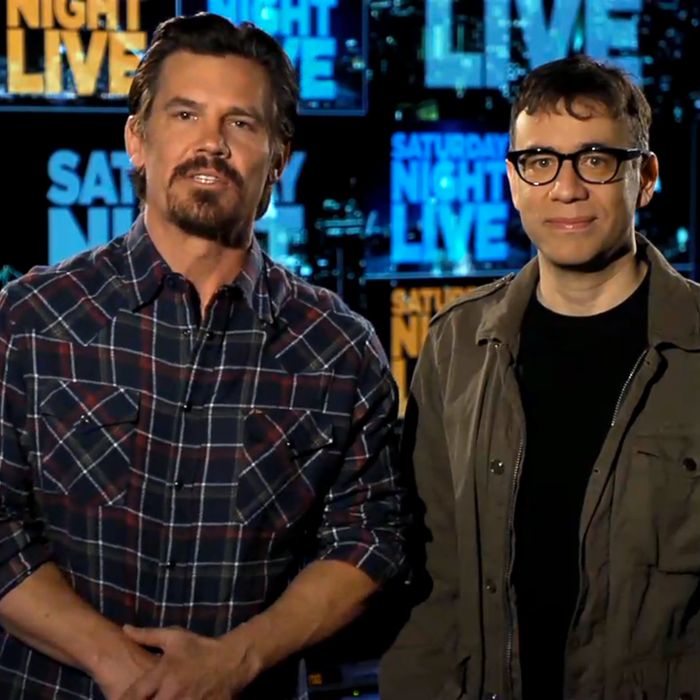 The last time Josh Brolin hosted Saturday Night Live, in 2008, actually ended up being kind of a historic occasion: It was the last episode on which Amy Poehler appeared before giving birth to her first son, Archie. (Poehler returned to the show later that winter for a proper farewell in an episode hosted by Hugh Laurie.) When Brolin returns to host the show again tomorrow night, he won't have the chance to dance with any hugely pregnant cast members again, but surely the show's producers will find other fun things for him to do. Here are some educated guesses as to what those things might be:
11:29 p.m. Cold Open: Rick Santorum (Andy Samberg) announces the suspension of his bid for the Republican presidential nomination, which finally frees him to espouse all the really extreme political beliefs he'd been keeping secret during the campaign.
11:37 p.m. Monologue: Host Josh Brolin busts out the George W. Bush impression he perfected for W., only to be told by Jason Sudeikis (as himself) that the impersonation is not in as much demand as it used to be.
11:42 p.m. On Getting Freaky With Cee Lo, the titular host (Kenan Thompson) welcomes his fellow The Voice judge, Blake Shelton (Brolin).                              
11:49 p.m. Commercial Parody: Lisa Rinna (Nasim Pedrad) explains in intimate detail why she endorses Depends undergarments.
11:51 p.m. On the set of Men in Black 3, Brolin (as himself) has a hard time matching the bombastic energy of his co-star, Will Smith (Jay Pharoah).
11:58 p.m. A documentary about the 100th anniversary of the sinking of the Titanic focuses on the experiences of an unsung group of passengers: the long-con grifters (Brolin and Fred Armisen).
12:06 a.m. Gotye performs.
12:13 a.m. Weekend Update features a visit from Madonna (Kristen Wiig), discussing the disappointing sales figures on her new album; and Lockout star Guy Pearce (cameo as himself) with Nicolas Cage (Samberg) for "Get in the Cage!"
12:24 a.m. Sexpot Shanna (Wiig) flirts strangely with her male colleagues at a work event, but delights her new boss (Brolin).
12:32 a.m. Betty White (Kate McKinnon) presents a collection of senior citizens' pranks too wild for her prime-time show, Betty White's Off Their Rockers.
12:43 a.m. Gotye performs.
12:48 a.m. Brolin (as himself) attends the annual reunion of the cast of The Goonies, and (as usual) ends up punching out Corey Feldman (Bill Hader).
12:55 a.m. Tim Gunn (Hader) and Ty Pennington (Brolin) commiserate, in their very different ways, about the cancellation of their daytime talk show, The Revolution.
1 a.m. Good night!