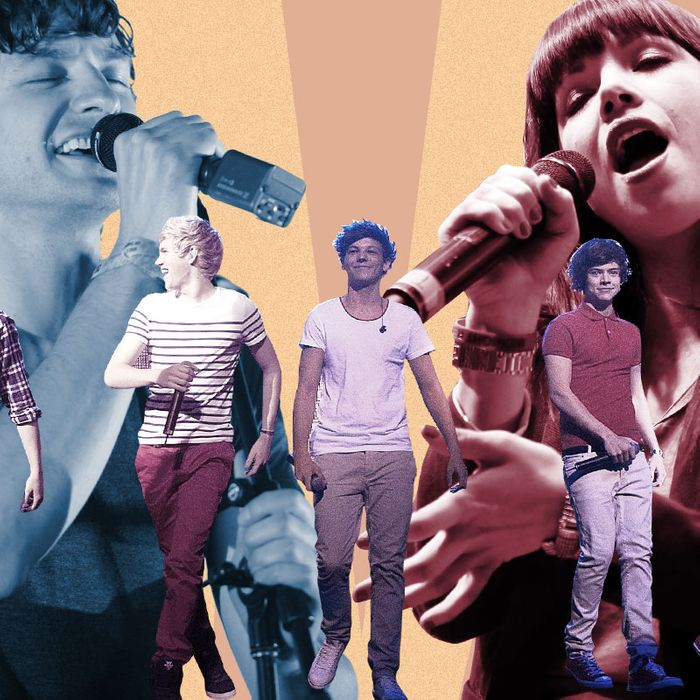 Photo: Photos: Michael Buckner/Getty Images ( Gotye), Hagen Hopkins/Getty Images ( One Direction), Chelsea Lauren/WireImage ( Carly Rae Jepsen)
Yes, we are aware of the date — it is April 25, a full two months before the calendar officially declares it summer and at least a month before most people will be able to contemplate a beach trip, barbecue, or any of the other recreational activities that typically signify the season. (If you live on a beach in Mexico, we congratulate you and ask what you are doing on the Internet.) But the time is near — you can feel it in the air, and on the radio, which has already been infiltrated with the first round of super-sunny, expertly dumb pop songs meant for Song of Summer contention. Isn't it too early for SoS? you might be wondering. Well, we did too, and yet the very question filled us with deja vu, as if in years past we'd been dancing to some frothy tune during April showers and thinking this very thing! So Vulture did a quick history lesson to find out when the last twenty Songs of Summer were actually released into the wild, and whether or not there is an optimal release date for Song of Summer success. Our findings, below!
A quick note on methodology: Vulture worked from this list of Songs of Summer, as compiled by BuzzFeed and vetted by our own crack team last year. As for release dates, we used the single's radio release, rather than album release date, as radio play and video promotion are crucial in determining a Song of Summer; these dates come from the record label's official schedule where possible, and otherwise were cross-checked between the best available chart, music video, and album information. Here are the months that Songs of Summer were released, in order of frequency.
August (Previous Year)
1996: "Macarena," Los de Rio (Bayside Boys Mix) — August 14, 1995
November (Previous Year)
2011: "Rolling in the Deep," Adele —  November 29, 2010
February
1992: "Baby Got Back," Sir Mix-a-Lot — February 27
2004: "Yeah," Usher — February 3
March
1999: "Livin La Vida Loca," Ricky Martin — March 23
2001: "Lady Marmalade," Christina Aguilera, Lil' Kim, May, and Pink — March 27
2005: "We Belong Together," Mariah Carey — March 29
2007: "Umbrella," Rihanna featuring Jay-Z — March 29
April
1993: "That's the Way Love Goes," Janet Jackson — April 20
1994: "I Swear," All-4-One — April 28
2000: "It's Gonna Be Me" 'N Sync — April 26*
2002: "Hot in Herre," Nelly — April 16
2006: "Promiscuous," Nelly Furtado featuring Timbaland — April 25
May
1995: "Waterfalls," TLC — May 29
1997: "I'll Be Missing You," Puff Daddy — May 27
1998: "The Boy Is Mine," Brandy and Monica — May 19
2003: "Crazy in Love," Beyoncé featuring Jay-Z — May 20
2008: "I Kissed a Girl," Katy Perry — May 10
2009: "I Gotta Feeling," Black Eyed Peas — May 21
2010: "California Gurls," Katy Perry — May 10
*This date was particularly hard to clarify, but Vulture went with April 26 based on the "It's Gonna Be Me" video premiere date (May 23) and the fact that Bye Bye Bye had already sold a zillion copies by this point in 2000. People knew the song.
So, what can we gather from this exceptionally scientific analysis? May is clearly the winner, and February is usually too soon — meaning Nicki Minaj's "Starships," One Direction's "What Makes You Beautiful," and the Wanted's "Glad You Came" probably hit too early this year. 2011's Fun. and Gotye will need an Adele-style miracle to win (though maybe a James Franco endorsement is just that).
But! March and April together account for nine of the last twenty Songs of Summer, so it's entirely possible that 2012's Song of Summer is already worming its way into your ear now. Rita Ora? Justin Bieber? Carly Rae Jepsen? (Okay, that song has been out in Canada for ages, but she only just started pushing it in the U.S.) Anyway, the moral is: stay alert. The next song you hear could be the song that will haunt you all summer song.